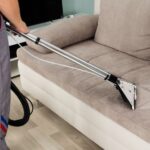 How long does it take for a sofa to dry after cleaning?
August 28, 2023
Within the realm of our homes, a silent battle rages on, where allergies and respiratory issues seek to cast a shadow over our lives. Each breath becomes a delicate dance with discomfort, as microscopic allergens and pollutants find solace within the fibers of our beloved carpets.
Unveiling the Allergenic Quandary:
Imagine a microscopic universe woven into the very fabric of our carpets. Dust mites, pet dander, pollen, and unseen pollutants create a symphony of irritants that infiltrate the air we breathe. These invisible adversaries conspire to trigger allergic reactions and compromise our respiratory health, leaving us longing for relief. But fear not, professional carpet cleaning holds the key to unlocking a breath of renewal.
The Artistry of Professional Carpet Cleaning:
In the hands of skilled professionals, carpet cleaning becomes a symphony of meticulous techniques and cutting-edge tools. Their mastery weaves through the fibers, unearthing hidden allergens and pollutants that lay dormant, waiting to disrupt our well-being.
Deep Cleansing: The cornerstone of professional carpet cleaning lies in its ability to delve deep beneath the surface. With powerful vacuums and advanced extraction methods, these experts remove the accumulated debris that has taken root within the carpet's embrace. Dust mites, pollen, and pet dander are gently lifted away, opening a gateway to cleaner, purer air.
Mold and Mildew Remediation: Moisture can be a carpet's silent accomplice, nurturing the growth of mold and mildew that release spores into the air. Professional carpet cleaning addresses this concern with precision and expertise. Specialized treatments combat these unwelcome guests, ensuring their eradication and reducing the risk of respiratory distress.
Allergen Neutralization: The battle against allergens takes center stage as professionals employ specialized agents to neutralize these invisible foes. These mighty warriors bind with the allergens, rendering them harmless and preventing their reentry into the air we breathe. Through their diligent efforts, professional carpet cleaners establish an environment of respite and relief.
A Breath of Fresh Air: By eliminating hidden allergens and pollutants, professional carpet cleaning has a transformative impact on indoor air quality. Each inhalation becomes a renewal, as the freshness and purity of the air invigorate our lungs. The symphony of allergens and irritants diminishes, creating a sanctuary where our respiratory systems can thrive.
Prevention and Long-Term Well-being:
The impact of professional carpet cleaning extends far beyond the immediate relief it provides. It paves a path toward prevention and long-term well-being, offering a shield against the accumulation of allergens and pollutants that compromise respiratory health.
Regular Maintenance: Embracing a routine of professional carpet cleaning is a proactive measure that prevents the resurgence of allergens. By scheduling periodic cleanings, we create a barrier against the accumulation of dust mites, pollen, and other irritants, establishing an environment that promotes respiratory wellness.
A Sanctuary of Comfort: Our homes should be havens of tranquility, where allergies and respiratory issues find solace. Through professional carpet cleaning, we cultivate an environment where comfort reigns supreme. The absence of allergens and pollutants allows us to breathe freely, unfettered by the discomfort that once plagued us.
Finally, professional carpet cleaning is a gift to both our homes and ourselves. It unlocks a breath of fresh air that reawakens our lungs, ushering in an atmosphere of well-being. As we inhale the purity of renewal, we enjoy its myriad benefits – from comfort to relief — until the cycle begins anew.
Learn more:
Can carpet cleaner be used on a mattress?
Do I need to move my furniture before getting my carpets cleaned?