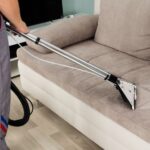 How long does it take for a sofa to dry after cleaning?
August 28, 2023
When it comes to carpet cleaning, the decision of whether or not to move your furniture depends on various factors. Firstly, it is important to understand that thorough cleaning requires access to the entire carpeted area. Furniture can obstruct the cleaning process, hindering the effectiveness of the cleaning techniques employed. Moreover, dirt and grime can accumulate beneath heavy objects, leading to uneven cleaning results if not addressed properly.
In light of these considerations, it is generally recommended to move lightweight and easily movable furniture items before scheduling a professional carpet cleaning service. This allows the cleaning technicians to have unrestricted access to the entire carpeted area, ensuring a more thorough and satisfactory cleaning experience.
However, we understand that not all furniture pieces can be easily moved. Bulky items such as sofas, cabinets, or large beds may present a significant challenge. In such cases, professional carpet cleaning companies often have strategies in place to work around these obstacles. They may employ specialized equipment, such as sliders or lifters, to carefully maneuver furniture items without causing damage to the carpet or the furniture itself.
It is crucial to communicate with your chosen carpet cleaning service provider beforehand to discuss the specific details of your situation. They will be able to provide you with guidance tailored to your unique needs and offer solutions for handling any furniture that cannot be moved.
Additionally, it is worth mentioning that some carpet cleaning methods, such as dry cleaning or encapsulation cleaning, require minimal moisture and have shorter drying times. These methods may allow for cleaning around furniture without the need for extensive furniture movement. However, it is important to consult with cleaning professionals to determine the most suitable approach for your particular carpet and furniture arrangement.
Furthermore, the decision of whether or not to move furniture for carpet cleaning is a personal one. By considering all the factors discussed above, you can make an informed decision as to what best suits your needs and budget. With careful planning and proper communication with your chosen service provider, you can ensure that your carpets are thoroughly cleaned without causing any unnecessary disruption.
Summing up, while it is generally advisable to move lightweight and easily movable furniture items to facilitate a more thorough carpet cleaning, the necessity of moving heavy furniture can be addressed through communication with the cleaning service provider. By engaging in open dialogue, you can ensure that the cleaning process is conducted effectively and with the utmost care for your carpets and furniture.
Don't forget that having a clean carpet not only makes your home look better, but also promotes a healthier living space. So, when contemplating carpet cleaning, consider the furniture in your space and make an informed decision that aligns with your cleaning goals and the recommendations of your trusted cleaning professionals.
Learn more:
Can professional carpet cleaning help with allergies and respiratory issues?