Bed bugs are a real problem that affects many people. As their name implies they be found in mattresses and beds and can cause a range of issues for the people living in the home. It can be difficult for the untrained eye So what exactly do they look like on mattresses? In this blog, we will provide an extensive guide on how to spot bed bugs in mattresses, along with some guidelines and suggestions on how to avoid and treat an infestation. It is important to stay alert and look out for any signs of bed bugs, since an infestation could become an issue if it is not addressed correctly. Knowing what to look for will help you identify the presence of bedbugs before they can become a huge problem.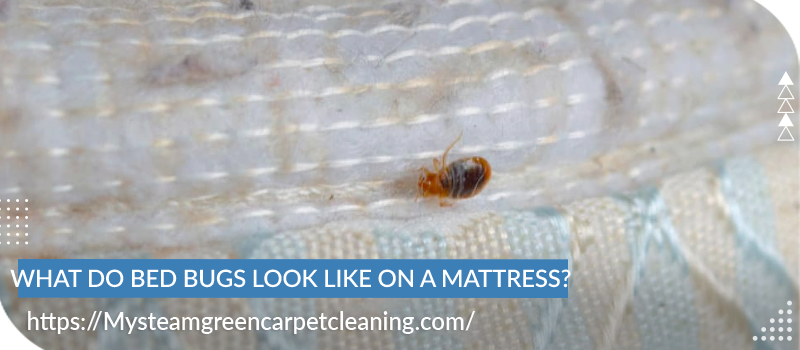 Do you notice mold buildup in your mattress? Are you in search of high-quality Mattress Cleaning in Tustin? Call My Steam for a free inspection for Mattress Cleaning in Tustin today!
Adult Bed Bugs
Adult bed bugs are brownish-reddish in colour and are approximately the size of an apple seed. They have flattened, oval bodies measuring around 5 mm in length. They are armed with six legs and two antennae that are visible to the naked eye. Bed bugs are night crawlers and prefer to be secluded in dark places in the daytime. They prefer mattresses, box springs, frames for beds, and other furniture due to the warmth and proximity to sleepers. Adult bed bugs are usually located at the seams of mattresses, on edge of boxes and within the folds of furniture.
Nymph Bed Bugs
Nymph bed bugs are the infancy stage of a bed bug's life cycle. They appear after eggs hatch and before they become adults. The tiny insects are colored reddish brown, with oval-shaped bodies that measure just 1.5 up to 3.5 millimeters long. They look just like their adult counterparts, however because they're so tiny they're harder to detect on mattresses and other surfaces. Nymph bed bugs feed off the blood of humans as well as animals, so if you spot the presence of any on your mattress take action quickly to eradicate them.
Bed Bug Eggs
Eggs of bed bugs are small and white, about 1 millimeter in size. They are difficult to spot on mattresses or other furniture. They're usually located in folds, seams and crevices of mattresses and box springs. They may be also found in the crevices of walls and behind wallpaper. Bed bug eggs typically develop within a week or two, so it is important to watch for any signs of eggs, and also adults with bed bug. If you suspect that you may have bed bugs, call a professional pest control company for assistance.
Bed Bug Fecal Spots
Bed bug fecal spots are among the most common signs of a pest infestation in the bed. The spots appear black or dark brown in color and are often mistaken for dirt. They are caused by bed bugs that feces after eating and are typically seen on the mattress as well as the box springs, close to the edges and seams. Fecal spots vary in sizes ranging from pinheads to the size of a dime. you might also notice groups of spots that are grouped together. If you spot any of these signs, it's important to inspect further for other signs of bed bugs.
Bed Bug Shed Skin Casings
Bed bugs shed their skin casings as they develop. They have five stages of development. When they're done molting from one stage to the next, they leave behind their old skin casings. It is possible to see the casings scattered all over your mattress. The casings look like tiny white tubes and usually are around 1-2 millimeters in size. They can be affixed to the mattress, or scattered over the mattress. If you notice the skin casings, it is a good indication of an infestation of bed bugs. It is crucial to take care of the issue as quickly as possible to avoid further spread.
In conclusion the bed bug aren't easy to detect and can be difficult to spot, but by being aware of what to look for and taking precautions, you will be better equipped to recognize a bed bug infestation before it becomes a major issue. If you think you might have bed bugs, contact an expert in pest control to examine your home. Taking action quickly and correctly is the best way to ensure that you don't need to face a bed bug problem in your home.
what size crib mattress should you get in Tustin?
How to remove pet pee off of mattress in Tustin?