If you think about the length of hours you sleep every night, it's vital to make sure your sleeping space and your mattress are conducive to a good night's rest. A common issue in bedrooms , particularly in humid climates – is the presence of moisture beneath the mattress. This can cause you to feel uncomfortable and can cause damage to your mattress. In this blog post, we'll discuss the best methods to stop moisture from forming beneath your mattress and the best way to deal with the problem when it occurs.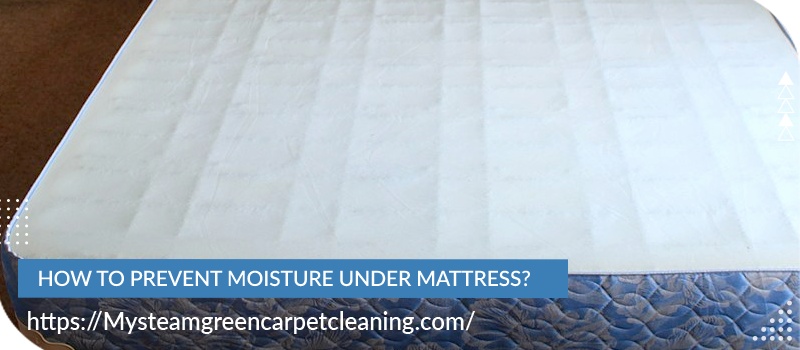 Spilled alcohol on your bed? Do you have DIYs that aren't enough to get quality Mattress Cleaning in Sedro-Woolley? We've got you covered! Contact My Steam today and schedule an appointment for a skilled Mattress Cleaning in Sedro-Woolley!
In humid environments there is a possibility of moisture forming beneath the mattress as a result of condensation of the air or the body's heat. This could make your mattress damp and uncomfortable. It could also trigger the formation of mildew and mold which could be detrimental to your health. In extreme instances the moisture could cause structural damage to the mattress or even weaken the springs inside. It's important to take preventive measures to prevent moisture under the mattress and minimize any damage.
Invest in a moisture-resistant mattress protector
Investing in a moisture-resistant mattress cover is the very first step in stopping moisture from getting under your mattress. Mattress protectors act as a barrier between your mattress and any moisture that might be present inside your bed. It will also protect it from spills and incidents. A mattress protector is an important part of creating a safe sleeping environment and decreasing the chance of mold and mildew growth. Choose a mattress protector that is designed to be waterproof and breathable, which will keep your mattress clean and comfortable.
Make use of a dehumidifier within the area
Dehumidifiers can be an effective way to reduce moisture in the air of a room, which helps to keep moisture from accumulating beneath your mattress. Dehumidifiers work by absorbing moisture from the air, which is then stored in a tank or reservoir. This lets you monitor the humidity levels of the room and keep them low, which will reduce the likelihood of moisture building up under your mattress. Additionally, the use of a dehumidifier will help keep the air in the room clean and free from allergens and dust, providing better sleeping conditions.
Add a fan to circulate air in the room
To prevent moisture under your mattress, one of the most important things to do is to ensure adequate air circulation throughout the space. Adding a fan to the room can help circulate air and keep the room clean. The fan can be set in the area of the room, or next to the mattress. Make sure you turn the fan on when you are not in the room so that the air is constantly moving around. This will reduce humidity and prevent condensation from forming under the mattress.
Keep your items out of the mattress.
Storing items directly under the bed is never an ideal option. Although it might seem like an ideal way to keep the extra bedding and clothes away from view, it can actually result in the accumulation of moisture and build up underneath the mattress. This is due to a lack of air circulation. This can cause mould and mildew growth. To stop this from happening ensure that the items you keep away from the ground and place them in closets, dressers and other areas where air can circulate and humidity won't build up.
Lift the bed off the floor with risers
The fifth step to stop moisture from getting under your mattress is to elevate it off the ground. This can be accomplished using bed risers, or any other kind of product that can increase the height of your mattress. This can help stop the accumulation of moisture on the floor of the bed and spreading to the mattress. It also helps provide airflow and circulation beneath the bed which can aid in keeping your mattress dry and free of mold and other problems related to moisture.
In the end, the moisture that is under the mattress can create dust mites and mold to multiply. To stop moisture from building up, make sure to protect your mattress with a mattress protector. You can also utilize a fan or dehumidifier to reduce moisture in the room and also keep your mattress free of dust and clean. By following these tips you'll be able maintain your mattress in excellent condition for many years to come.
how to remove stains from mattress using baking soda in Sedro-Woolley?