It's not unusual to see bloodstains on a mattress. It doesn't matter if it's the result of an accident that was unfortunate or a medical problem. Though it may appear like a daunting task, removing a blood stain on a mattress is actually quite simple , if the correct method is followed. In this article we'll look at the most effective methods of removing blood stains from mattresses, so you can return your mattress back to a spotless and inviting state. We'll discuss a variety of solutions , from DIY remedies to commercial products, and give you some tips on how to keep your mattress stain free for the foreseeable future. So if you're looking for effective and affordable methods to remove a blood stain, keep going and find the remedy that best fits your needs.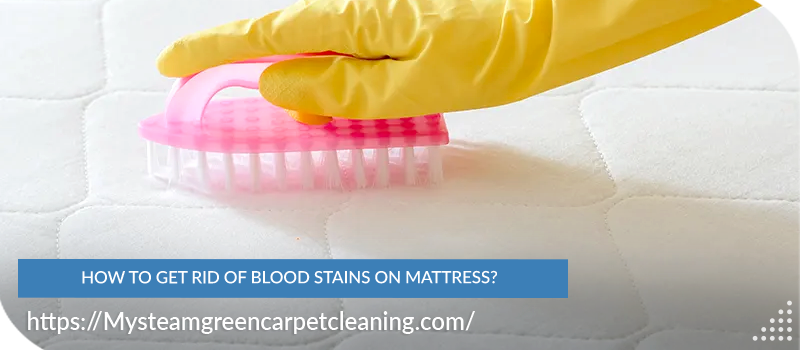 Spilled alcohol on your bed? Your DIYs aren't enough for quality Mattress Cleaning in Waterford? We've got you covered! Contact My Steam now to schedule an appointment with a expert Mattress Cleaning in Waterford!
Treatment with cold water
The best way to remove blood stains that are on the mattress is remove the stain with cold water. Begin by wetting a cloth with cold water and applying the stain with a gentle dab. Make sure to work from the outside of the stain toward the centre, so that the stain doesn't expand. Once you have dabbled the stain sufficiently, use dry cloths to soak up any water that remains and let the mattress air dry completely.
The process of blotting the area with hydrogen peroxide
If you've noticed a fresh and dried blood stain that has accumulated on your mattress, you can make use of hydrogen peroxide for removal. Before you do anything, test the hydrogen peroxide on an unnoticed area to make sure it won't damage the fabric. If you're confident, cover the stain with hydrogen peroxide afterwards, use a fresh towel to remove it. If the stain is visible, you can employ a soft-bristled brush gently scrub away the stain. Be sure to rinse the hydrogen peroxide away by using the warmest water you can find and use a clean cloth. After you've removed the stain, you can utilize a vacuum to eliminate any liquid that remains.
Make a paste using baking soda, water and
For those stubborn blood stains Baking soda is among the most effective solutions. Make a paste using baking soda, water and apply it on the area that is stained. The paste should rest on the mattress for a few hours and then clean it using the bristles of a soft brush. If you are able do so, allow the paste to rest overnight to give it more time to soak up the stain. After that, you can clean the paste thoroughly as well. The stain will have disappeared.
By applying a paste made of lemon juice and salt
Making a paste out of the juice of a lemon and salt is yet another simple solution to remove blood stains from a mattress. Start by mixing equal amounts of lemon juice and salt to create a thick paste. Then, spread the paste directly to the stained area and allow it to sit for approximately 30 minutes. Then take a clean cloth to wipe away the paste. Repeat the process until the stain is gone.
Vacuuming away the dried remains
Once you have treated the stain by using a solution of water and detergent then the next step is to clean the dried residue. This is a vital stepbecause the residue may be a magnet for dust and dirt, leading to further staining and discoloration. Make use of an upholstery brush to make sure that all crevices and fibers in your mattress are properly cleaned. After you have vacuumed, you might want to use the lint roller for removal of any hard-to-get rid of particles.
In conclusion, understanding how to eliminate bloodstains from your mattress is simple. There are many ways to select from based on the amount of time and effort you want to devote to cleaning. From natural solutions like citrus juice and hydrogen peroxide to commercial products like laundry detergent and OxiClean, there's sure to be an option that is suitable for your needs. By using the correct cleaning technique it is possible to ensure that your mattress looks and feels like new.
What spray can I apply to my mattress to kill fleas in Waterford?