It's not an uncommon occurrence to find an area of blood on a mattress, whether it's due to an unfortunate accident or a medical issue. Although it might seem like a daunting job, getting rid of the blood stain from mattresses is easy if the proper approach is taken. In this blog post, we'll discuss the best methods of removing blood stains from mattresses and return your mattress back to a spotless and welcoming condition. We'll cover a range of solutions from DIY home solutions to commercial ones, and give you some suggestions on how to keep your mattress free of staining for the foreseeable future. If you're searching for inexpensive and effective ways to eliminate the blood stain, continue reading and find the solution which best suits your needs.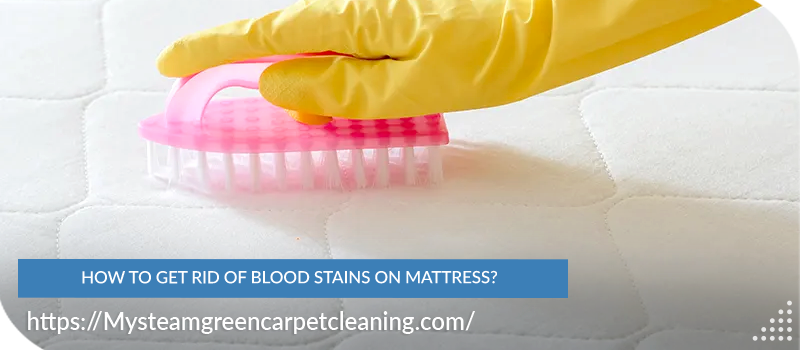 Did you spill wine on your mattress? Do you have DIYs that aren't enough to get high-quality Mattress Cleaning in North White Plains? we got you! Contact My Steam now to schedule a professional Mattress Cleaning in North White Plains!
Treating using cold water
The first way to eliminate blood stains on your mattress is to clean the stain using cold water. Begin by wetting a fabric with water that is cold, and rub the stain lightly. It is important to work from the edges of the stain to the center, to ensure that the stain doesn't spread. Once you have dabbled the stain enough, apply a dry , clean cloth to remove any residual water and allow the mattress air to dry completely.
Blotting with hydrogen peroxide
If you have a fresh or dried blood stain on your mattress, you can make use of hydrogen peroxide to remove it. Be sure to test the hydrogen peroxide in an inconspicuous location to ensure it doesn't cause damage to the fabric. If you're confident, cover the stained area with hydrogen peroxide and after which you can use a dry, dry cloth to remove it. If the stain remains visible, you can make use of a soft-bristled toothbrush to gently scrub away the remaining stain. Be sure to rinse the hydrogen peroxide off by using warm water and a clean cloth. Once you've eliminated the stain, you can use a vacuum to remove any liquid left.
Making a paste from baking soda with water
For those blood stains that remain indestructible Baking soda is one of the most effective solutions. Make a paste of baking soda, water and apply it to the stained area. The paste should rest in the mattress about two hours, then scrub it off with a soft bristle brush. If you can, try to leave the paste to sit for a few hours to allow it to soak up the stain. After that, you can vacuum up the paste and the stain should be gone.
Applying a paste of salt and lemon juice
Making a paste out of citrus juice and salt can be a easy method to eliminate bloodstains from a mattress. Begin by mixing equal parts of salt and lemon juice to create a thick paste. Then, spread the paste directly onto the stained area , and let it to set for around 30 minutes. Finally apply a damp cloth to clean the paste. Repeat the procedure until the stain is gone.
Vacuuming away the dried remains
Once you have treated the stain by using a solution of water and detergent then the next step is to clean the dried residue. This is a vital stepbecause the residue may be a magnet for dust and dirt which can cause discoloration and staining. Use an upholstery brush attachment to make sure that any fibers or crevices within the mattress are completely cleaned. After you have vacuumed, you might need to apply the lint roller for removal of any hard-to-get rid of particles.
In conclusion, learning how to eliminate bloodstains on your mattress isn't difficult. There are a variety of options to pick from based on how much time and effort you want to invest in the cleaning process. From natural options like the lemon and hydrogen peroxide, to commercial products like laundry detergent and OxiClean, there's sure to be an option that will work for you. If you choose the right method for cleaning, you can maintain your bed looking like new.
What size crib mattress is best for you in North White Plains?
What do bed bug looks like on a mattress in North White Plains?