Cleansing up vomit from a mattress is a daunting task. The mess not only need to be cleaned up however, it needs executed in a manner that is hygienic and effective. With the right information and tools, cleaning up vomit from a mattress doesn't need to be a daunting task. In this blog, we will discuss the most effective methods as well as products and advice for how to efficiently and safely clean vomit off mattresses. We will also address the health risks that could be associated in cleaning up vomit and the best ways to reduce the potential health risks. By the end of this blog, you'll be able to tackle this unpleasant yet necessary job.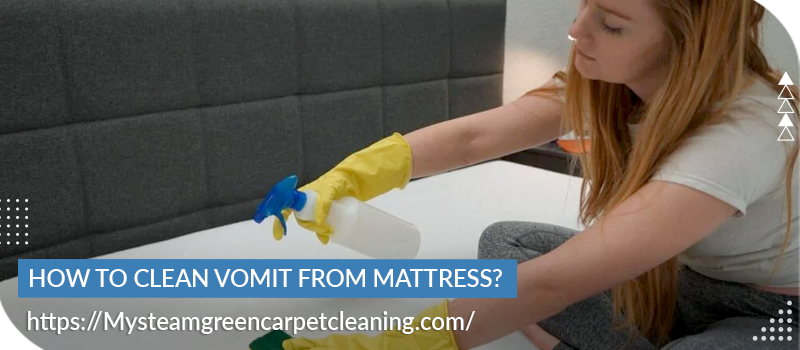 Do you constantly sneeze when you're sleeping? It's time to get a professional Mattress Cleaning in Westlake! Contact My Steam now to schedule your free assessment to get your Mattress Cleaning in Westlake!
Scrape the vomit with a spatula
After you've identified the location of your vomit and figured out what kind of mess you're dealing, it's time to begin cleaning. First, you need to scrape the vomit with the spatula. This will help to remove any remaining pieces and must be done with care so as to prevent any further damage on the mattress. Use a plastic spatula or similar non-abrasive tool, and make sure to discard the vomit after collection.
Blot any residual vomit with the help of a paper towel
The next step to clean vomit from your mattress is to blot the remaining dumped liquid using a paper towel. Be sure to use a dry, clean towel to absorb as much of the liquid as you can. It is possible to require several towels in order to soak the liquid up. If you are using a cloth towel make sure to use a light-colored one because darker shades could seep onto the bed. Blotting or changing the towels till vomit is completely absorbed.
Mix the solution with mild detergent with warm water
The third step to clean vomit from your mattress is to mix a solution of warm water and mild detergent. Be sure to use a gentle soap like a mild laundry detergent to ensure that it doesn't harm the mattress's fabric. Be sure to not use too much detergent; only a few drops will suffice. Utilize a sponge or a cloth for applying the liquid on the area that is stained and gently scrub the area using circular motion. Then, rinse the spot with warm water to remove any remaining residue.
Cleanse the mattress using the detergent solution
After you have treated the area of vomiting and cleaned the area, you can sponge the mattress with soap solution. Use a clean, damp sponge and spread the mixture of detergent and warm water on the area that is soiled. Gently rub the sponge across the affected surface in a circular motion and apply some pressure as needed. Once you're done, gently wash the area with a clean, damp cloth. You can repeat this procedure several times until the stain is gone.
Let the mattress completely air dry before you use it again
Once you have removed the vomit that was left and then wiped the mattress thoroughly, you will need to let it air dry completely before using it again. If you make use of the mattress while it's still damp the smell and stain may become more pronounced. To ensure the mattress is completely dry, you can use an air conditioner to speed up the drying process. If the room you are drying the mattress in is extremely humid, you might want to use an air dehumidifier to remove the moisture in the air. Once the mattress is dry, it should be safe to use again.
In conclusion the removal of vomit-related stain and odor off the mattress is a matter of a few steps, but it's not a difficult task. Start with removing as much the vomit as is possible using towels. Then, use a combination of baking soda and vinegar and an enzymatic cleanser remove the stain and odor. Finally, make use of a vacuum cleaner to remove any remaining remnants and wash the mattress cover, if you can. With the right supplies and a bit of elbow grease, you'll have your mattress looking and smells as good as new.
How much is a casper mattress in Westlake?
How to remove baking soda out of mattress with out vacuum in Westlake?