The growth of mold in air ducts is a serious problem which can cause numerous health-related problems and costly maintenance repairs. As a homeowner, it is essential to be aware of the possibility of mold to grow within air ducts, and the steps you can take to stop it from happening. In this blog we will look at the conditions required for mold to grow within air ducts and ways to spot and prevent its growth. We will also look at the health risks associated with the growth of mold in air ducts as well as the implications of not dealing with the issue quickly. Recognizing the risks of mold growth in air ducts and taking steps to avoid it is crucial to keep your home clean and safe.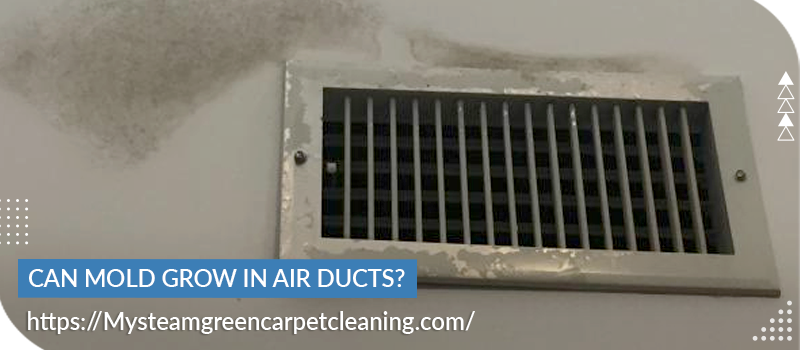 We can help you eliminate mold in the air duct, and improve the air quality by providing you with professional Air Duct Cleaning in Yolo. Call My Steam Green today! to schedule your Air Duct Cleaning in Yolo appointment!
The causes of mold growth in air the ducts
The growth of mold in air ducts is a frequent problem in a lot of households. The reason for this is that the humid, warm environment of air ducts is the perfect breeding ground for mold spores. If these spores exist throughout the atmosphere, they'll eventually get into the air ducts and begin to grow. Common causes of mold-causing spores in air ducts are airborne mold spores that come from the outdoors or from humidifiers. They also cause water damage, and mold from damp places such as laundry rooms bathrooms, and basements. To prevent mold from growing in air ducts, it's essential to ensure the proper humidity and ventilation and to keep the ducts free of dust and dirt.
Signs of mold growth in air ducts
One of the most prevalent symptoms of mold growth in air ducts is a musty scent. This is typically caused by the air that is circulated through the ducts and carrying mold spores in it. In addition, you could see an increased amount of dirt and dust in the air and on the surfaces around the ducts. In extreme cases there may be visible growths on the outside of the ducts or you may find little marks of black on ceilings or walls around the ducts. If you notice any of these indicators, it is important to seek out a professional inspection of the area as soon as possible to assess the extent of the mold growth.
Tips to prevent the growth of mold in air vents
If you're wondering whether mold can develop in air ducts The answer is yes. Mold spores can infiltrate the air ducts via air vents and thrive in damp, dark and humid conditions. To stop mold from growing in air ducts, it is essential to take measures to ensure they are dry and well-ventilated. Here are three steps to avoid the growth of mold in air ducts:
1. Look for leaks and fix any leaks you spot. Leaky ducts can introduce moisture into the air ducts creating an ideal environment for mold growth.
2. Make sure the vents for air aren't blocked or blocked. Be sure to keep curtains, furniture and other items from covering the vents, as this can lead to poor air circulation and the buildup of moisture in the air ducts.
3. Keep the humidity level within your home to a safe level. The ideal humidity level is between 35 and 50 percent so use a dehumidifier if necessary.
Cleansing air ducts of mold
Can mold grow in air conduits? Yes it is possible for mold to grow within air ducts. The mold spores are present in all homes and, when mixed with the right conditions of humidity and temperature they can begin to develop within air ducts. The most effective way to eliminate the mold is to have the air ducts professionally cleaned. This requires the vacuum cleaner to eliminate debris and dirt from the air ducts, then applying a strong cleaning solution to eliminate any mold that may be present. The cleaning solution should be allowed to remain within the air vents for some hours, and then rinsed away to ensure that all traces of the mold have been removed.
Air ducts maintenance tips
Air ducts need to be regularly maintained to prevent the growth of mold. Here are five tips for maintenance to help ensure that your air ducts are clear of mold
1. Replace the air filters on your HVAC system regularly to prevent the growth of mold in to your house through air ducts.
2. Be sure to remove any debris, including dust and leaves, off the outside of your air-ducts.
3. If your air ducts are susceptible to condensation, you can use a dehumidifier to reduce the humidity levels of your home.
4. If you notice any mold on the ducts, remove it immediately using a solution of bleach and water.
5. Check your air ducts regularly by a professional to ensure they are clean and free of mold.
In the end, mold is able to grow in air ducts due to the high humidity and organic substances that are present within the system. The best method of preventing the growth of mold is to ensure that the ventilation systems are properly maintained and serviced regularly. This will help to maintain the humidity levels, and ensure that any possible sources of organic material or moisture are removed or remedied swiftly. Preventative measures will help safeguard your home from the effects of mold and the health risks it poses.
How often should you wash your central air ducts in Yolo?
what does Air Duct Cleaning in Yolo involve?