A pet brings so much happiness to your home, but cats can be extremely difficult on furniture. As a pet's owner one of your most challenging tasks is keeping the cat away from clawing and shedding on your furniture. Cats can cause wear and tear to furniture and cause damage to delicate fabric. While it is crucial to shield your furniture from your pet It is equally essential to provide them with an opportunity to express their natural instincts. In this blog we will look at ways to protect your furniture against cats in a humane way. We will discuss various approaches that include providing scratching posts, using furniture covers and sprays, as well as establishing the boundaries. We will also discuss the ways that a regular routine can make a big difference in your cat's behavior. All of these tips can help you safeguard your furniture from cats , and ensure that your cat is safe, secure and comfortable in your home.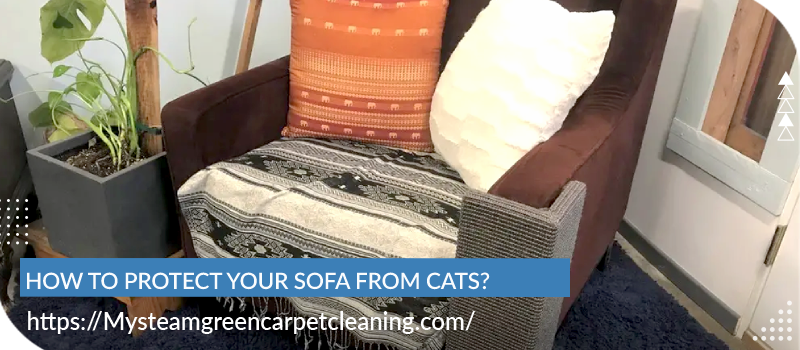 Has your sofa got dirt buildup? It's time for professional Sofa Cleaning in Beach City! Hire My Steam for professional Sofa Cleaning in Beach City and get rid of dirt off your sofa.
Stop cats from furniture by using deterrents
Restricting cats from furniture is among the most common problems with cats and furniture. There are, however, various deterrents that can help keep cats off furniture. One of the most basic and most commonly used deterrents is double-sided tape which cats dislike because of its sticky feeling. It is also possible to use sheets of aluminum foil or plastic wrap, which cats don't like the sound or sensation of. Sprays are also available specifically designed to repel cats, for example, citrus-scented sprays. In addition, having ample scratching posts and other comfy places for your cat to rest can encourage them to stay off the furniture.
Choose a pet-friendly fabric
Fabric protectors for pets are a fantastic option to shield your sofa from cats. They can be used to repel liquids, dirt, and other messes that cats can make on the sofa. You can easily apply it on the fabric of your sofa with the help of a spray or cloth and it can last up to 12 months. The fabric protector is pet-safe, so you don't need to worry about toxic chemicals being present in your home. Also, it's affordable, so you won't have to worry about breaking the bank to protect your sofa from cats.
Keep claws trimmed
One of the most effective ways to safeguard your furniture from the harm done by pets is to ensure that their claws are kept trim. The regular clipping of your cat's nails prevents them from becoming too sharp and long and sharp, which limits their ability to dig into and break up furniture. But, it's crucial to make sure you don't clip your cat's nails to short, as this can cause pain and bleeding. If you're unsure of the proper way to cut your cat's nails you should consult an expert.
Use a scratch pad , or post
One method to shield your furniture from cats is to put up a scratch pad or post. Scratching posts give cats the opportunity to exercise to stretch, stretch, or scratch the nails, which helps to stop them from scratching your furniture. They can be made using sisal ropes, carpet, or cardboard, and they are best placed in areas that are easily accessible for your cat. Be sure to select a sturdy post that's tall enough for your cat to stretch and scratch. You may also need to add some snacks or toys to the post to encourage your cat to use it.
Set up a comfy cat bed near the sofa
If you have pets in your home, it's important to protect your furniture from pet's claws as well as fur. One of the best methods to achieve this is to place a comfortable cat bed near the sofa. In this way, your cat are more likely to use the bed instead of the sofa for lounging, and you won't have to worry about furniture getting scratched , or covered in fur. Also, pick the bed that is attractive and blends into your home design.
In the end, protecting your sofa from cats doesn't have to be a difficult task. By taking the appropriate measures including covering the furniture with slipcovers or throws or adding repellents like the bitter apple spray or providing cats with a scratching post, you can ensure that your furniture is safe and secure from your furry friends. If you take these steps to prevent your furniture from being attacked that you can enjoy your sofa for long time to be.
how much to sell the old sofa in Beach City?
cleaning leather sofa at home in Beach City?