Air ducts are an integral component in our houses, providing heating and cooling and helping to circulate air around our homes. Unfortunately, over time, air ducts be clogged with dust and debris and can become sources of unpleasant odors. Cleaning the air ducts is an essential element of maintaining your home since it eliminates dust and debris, helps to keep your home free of allergens and improves the air quality. It's good to know that deodorizing air ducts is a simple process. In this blog post, we'll provide step-by-step instructions for how to deodorize your air ducts, so you can keep your home fresh and fresh. We'll also talk about how important it is to deodorize your air ducts, and offer suggestions on how to keep your air ducts fresh and clean. If you're in search of ways for keeping your house smelling fresh and clean this blog post is perfect for you.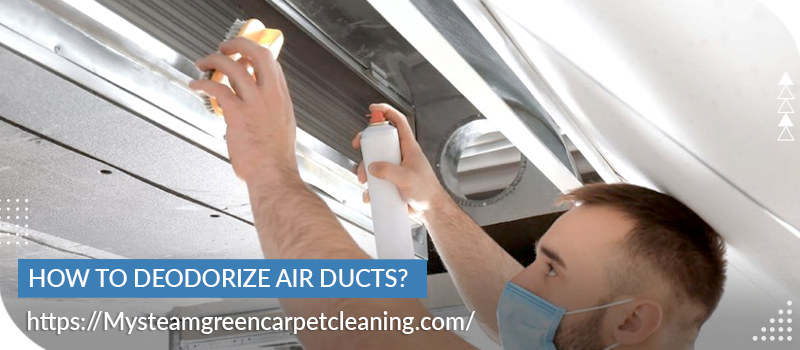 Air ducts may be covered in dust and harmful allergens , and need air cleaning of the ducts. There is no need to fret about it. Just call My Steam Green to get air ducts cleaned in your home!
Clean air filters
The first step to deodorizing your air ducts is cleaning the air filter. Air filters can become clogged in time, capturing dust and other particles that create unpleasant smells. Cleaning or changing your air filters frequently is an important part of maintaining your air ducts clean from smells. Cleaning your filters should be performed every three months at a minimum however, it is more frequent if you have pets or live in a dusty environment. When cleaning your filters, it's essential to utilize the appropriate tools and techniques to ensure the task is done properly.
Use a deodorizing spray
The second method of deodorizing your ducts is to make use of a spray that deodorizes. It is a mix of odor neutralizers as well as enzymes that work to break down the smells and remove the smell. When you use the spray to deodorize it is recommended to spray in all of the air ducts, and make sure to get every nook and cranny. It is important to select a spray that is specifically made for air ducts as certain sprays are not appropriate for use in a house. After the spray has been put on, allow it to dry prior to turning on the air ducts.
Turn on the fan of the air conditioner
The air conditioner's fan is a crucial step in cleaning air ducts. This will help to eliminate the lingering smells and bring in fresh air. It also helps to move the air around and keep the air quality inside your home clean. Be sure to run the fan for at least 15 minutes to ensure that all the air in the ducts has been adequately circulated and cleaned. Additionally, it's important to maintain the air filter of the air conditioner clean to ensure that no odors get trapped within the filter and then released in the ducts.
Utilize an air purifier
If you want to reduce the smells emanating from your air ducts, one of the most beneficial things you could do is utilize the air purifier. Air purifiers are able to get rid of airborne particles and odors, making them particularly beneficial for areas susceptible to strong odors. To make sure you are getting the most of the air purifier you have, make sure to change the filter on a regular basis and keep the air vents clean. This will make your purifier work more efficiently and will reduce the smell in your home.
Replace air ducts as needed
After deodorizing and cleaning those air vents you'll want to ensure that they're in good condition. That's why replacing them whenever needed is an essential stage in the process. When your air-ducts become worn and old they may leak air and release unpleasant odors into your home. If this is the case, replacing your ducts is the best option to get rid of the smell and refresh the air. Be sure to hire a professional to install your new air ducts in a proper manner and will ensure that the air ducts you have installed are not leaking any odors.
In conclusion, deodorizing air ducts is vital to the overall health of your home and the people living in it. With a professional cleaner for your air ducts you can ensure that the ducts you use are cleaned thoroughly and deodorized. Additionally, regular maintenance and cleaning of your filters, vents, and ducts can help you prevent the buildup of odors. If you follow the correct procedures and products, you can rid your home of unpleasant odors and keep your air ducts clean and fresh.
how to check for blocked air ducts in Wilson?
How do you test the air ducts for leaks in Wilson?