When you clean your couch, it can be difficult to figure out what comes next. You just would like your sofa to look like new but without damaging the fabric. For those of you feeling somewhat confused on how to dry your sofa after cleaning, this post is perfect for you. Here, you will learn how to dry your sofa swiftly and safely – without compromising the sofa's fabric. This article will give you an easy-to-follow guide to the best way to dry your sofa, to ensure you have an elegant and clean sofa in no time. We'll discuss the types of materials that you require, the techniques to employ, and the best way to check that everything is dry , without being at risk of damage. By the end of this post, you'll be in a position to clean and dry your sofa like a professional.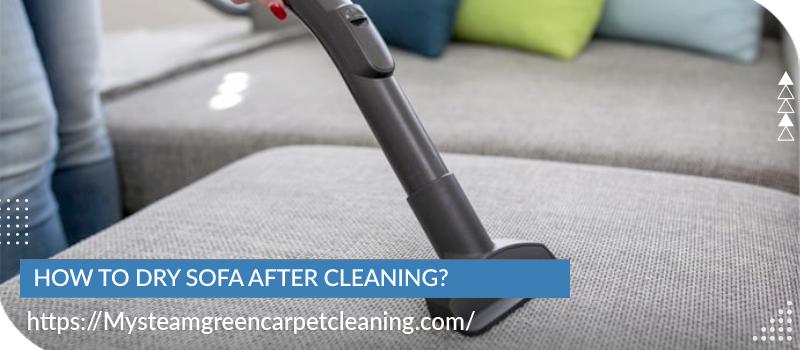 Sofa Cleaning in Avenel isn't something you can do by yourself if you've spilled a glass of wine on your sofa. Get in touch with My Steam to get a professional Sofa Cleaning in Avenel!
Use a fan to help dry the couch
After cleaning your sofa, it's important to ensure that it's dried properly. One method to accomplish this is by using a fan. The fan should be placed in a position so that the circulation of air is directed towards the sofa, however, make sure that it is not too close to the fabric. This will allow the fabric to dry more quickly and equally. It is best to keep the fan on for at minimum an hour, or more if the sofa isn't drying fast enough. This will ensure that your furniture is completely dry and is ready for use as soon as possible.
Vacuum the sofa with an air-dry or wet vacuum
After scrubbing your sofa with the cleaning product, it's time to clean the sofa using dry or wet vacuum. This will eliminate all dirt and other debris from the sofa and also any moisture that has accumulated from the cleaning solution. Be sure to make use of a vacuum specifically designed for wet/dry vacuuming, since regular vacuums can be damaged by the humidity. After you've finished cleaning, allow the sofa to fully air dry before using it again.
Use a blow dryer to blow dry the sofa
After cleaning your sofa you can utilize the blow dryer to ensure that it is completely dry. This step is crucial to minimize the risk of mold or mildew forming over your sofa. The first step is to ensure that you have the blow dryer set to an appropriate setting. a high setting can easily cause damage to the upholstery that covers your sofa. Next, evenly blow dry all over the sofa, paying close to the creases and folds. Once the sofa has dried then you can smooth the cushions, then run your fingers across the sofa to make sure that the sofa is completely dry.
Set towels on the sofa to soak up the moisture
After you've cleaned your sofa, the last step is to ensure that it's completely dry. To do this, place many towels on your sofa and let them sit for a few hours to absorb any moisture left. Be sure to wash the towels often to ensure that the moisture is being absorption. Additionally, it is also a good idea to turn on a fan or to open windows within the room to encourage more flow of air, and to speed the drying process.
Allow air to circulate
After cleaning your sofa, open the windows in the room , allowing the fresh air in your room to flow. This will help the sofa dry quicker and reduce the time it takes for it to completely dry. Also, fresh air can help to eliminate any smells that could be caused by the cleaning products that are used. Opening the windows also helps to reduce the humidity in the space, which could assist in keeping the furniture from getting stale.
In conclusion, drying the sofa after cleaning is an essential aspect that should not be skipped over. With a combination of the methods mentioned above, you will be able to effortlessly and effectively dry your sofa, leaving it looking and smelling fresh and clean. If you take the time to ensure that your sofa is thoroughly dried, you can help to prolong its lifespan which will save you money and time in the long term.
how much steam cleaning how much to steam clean a sofa in Avenel?