The appearance of a sofa and smells clean is essential to having a comfortable and inviting living area. It isn't easy and costly to keep your sofa's furniture clean and in good condition. Fortunately, with a little knowledge and the right materials, you can quickly and effortlessly clean your sofa's upholstery at your home. This blog post will provide you with steps-by-step directions on how to clean your sofa's upholstery safely and efficiently. We will provide the most effective techniques for cleaning natural and synthetic fiber upholstery as well as suggestions on how to get rid of the most stubborn stains and smells. By following the tips given in this post you'll be able to keep the appearance and feel of your sofa's furniture and prolong its lifespan. So, let's get started!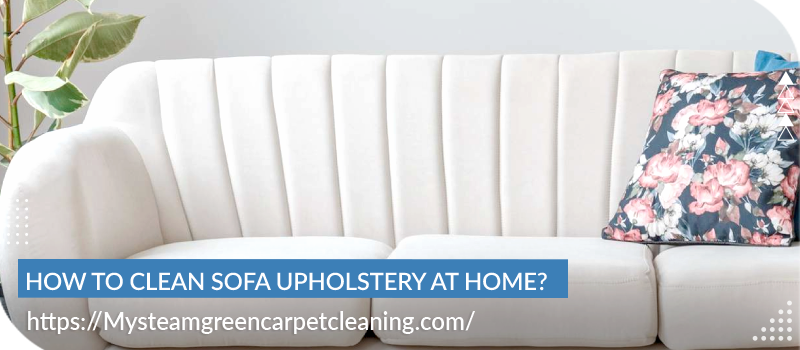 Sofa Cleaning in Alpine isn't something you can do with DIYs when you have spilled wine on your couch. Call My Steam to get a professional Sofa Cleaning in Alpine!
Vacuuming upholstery
Vacuuming upholstery is the first step in cleaning the upholstery in your home. It is essential to use a vacuum equipped with a soft brush attachment to avoid damaging the fabric. Be sure to move the vacuum gently and reach into the crevices and seams of the furniture. Start at the top , and move down the sofa. Vacuum up and down, not side to side. This will help to remove all dirt and debris that has accumulated in the fabric. After you've finished vacuuming, use a dry, clean cloth to clean any stains or marks.
Cleaning solutions for the home
Creating your own cleaning solution is an effective and affordable method of cleaning your sofa's upholstery. You can create a simple cleaning solution by mixing equal parts of white vinegar and mild dish soap, and 2 cups of warm water. You can add a few drops essential oils to make the solution smell good. Mix all the ingredients in a bowl until soap is fully dissolved. This homemade solution is gentle enough for most upholstery fabrics and can help get rid of surface stains as well as everyday dirt. Make sure you test the solution on a small piece of fabric prior to applying it to your entire furniture.
Spot cleaning
Spot cleaning is crucial in the cleaning of upholstery at home. Spot cleaning is the process of removing individual stains or spots on the upholstery with a special cleaner. Spot cleaning should be done as soon as possible after an incident of spill or stain to stop the stain from setting in. You can use a clean sponge, mild detergent or a commercial upholstery cleaner to clean the spot. Make sure you check a small section of fabric prior to using any cleaning products on the entire surface.
Cleaning solution is applied to the surface.
After you have the solution for cleaning, begin by applying it to the area of the upholstery. Make sure to use gentle motions and not scrub too hard, since this can damage the fabric. Make use of the softest cloth or brush in order to spread the liquid, dependent on the nature of the stain. After you've applied the solution, leave it to sit for at minimum 15 minutes. This gives it a chance to work its magic and break down the stain. In 15 mins, you can use a clean, damp cloth to wipe away the remaining solution and the stain.
Drying the upholstery
After you have done vacuuming, use a dry cloth to wipe down the furniture. Pay special attention to any spots or stains that require extra focus. If you notice any difficult staining, you might need to apply a cleaning product to the area. After you've done this then use the dry cloth to completely dry the upholstery. Be sure to repeat the process multiple times to make sure that all the water has gone away. When the upholstery is dry, it is now ready for use.
Cleaning furniture at home is not a problem and isn't as difficult as it may seem. With the right tools and methods to remove dirt, stains, and unpleasant odors from your sofa upholstery. Be sure to use products designed specifically for upholstery and try them in a secure area before you use them. If you keep your sofa clean, you can keep your sofa looking beautiful as new.
how to make your sofa more cozy in Alpine?
how to remove blood from the sofa in Alpine?