The season of spring is here, which means it's time to get some Spring cleaning! Your air ducts at home are no different. In time, dust, pollen, and other allergens could accumulate in your air ducts and circulate throughout your home each time you turn on the heating or air cooling. It's not just uncomfortable, but it could cause a serious health risk to you and your family, particularly if someone suffers from asthma or other respiratory conditions. In this blog we'll teach you how to properly clean your home's air ducts to breathe easy all Spring and the entire summer!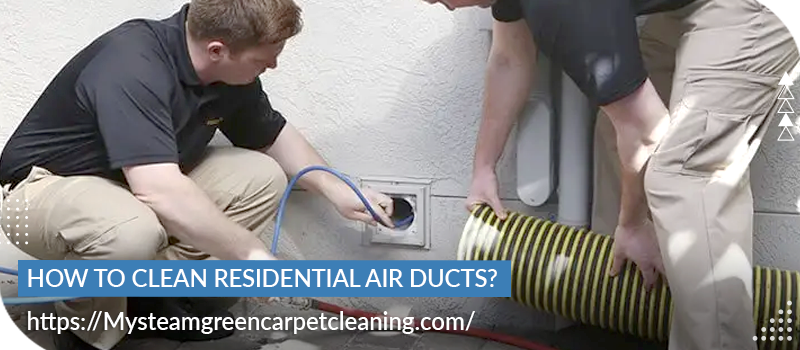 The absence of routine cleaning of the air ducts can have catastrophic consequences. molds, pollutants and more. So call My Steam Green today to set up your air clean-up appointment!
What You'll Need:
Screwdriver (to remove registers)
* A vacuum with an attachment for a brush
* Gloves
* a ladder (optional)
* paper towels or rags
Step One: Turn off Your HVAC System
Before you start any work, you'll want to ensure that your HVAC system is switched off. If you have a central HVAC system it's best to turn off the power from the breakers box. For window units or space heaters, simply switch off the power at the unit's. Once your HVAC system is off, give it some time to cool down completely before proceeding to the next step. This is essential since you don't want to burn yourself on any hot surfaces.
Step Two: Remove All of the Registers
Registers are the metal or plastic grates that cover the ductwork's openings. To take them off, you must unscrew the screws that hold them in place with a screwdriver. Some registers may be held in place with magnets–in the latter case, you'll be able to simply pull them off. Once all of the registers have been removed, clean each one individually with the brush attachment to remove any dust or dirt that might be stuck onto the floor. If they are particularly filthy, it is possible scrub them using a rag dipped into soapy warm water. Rinse thoroughly with clean water, and dry completely before moving on for the following step. Step
Step Three: Clean Your Ductwork
After all the registers are out of the way, now it's time to clean the ductwork. Begin by using your vacuum's hose attachment to reach as deep in the ductwork you can and then sift out any debris that may have accumulated. Then with the rag that you wash clean, and dipped into mild soapy water wash down all of the surfaces of the ductwork, taking care that you don't miss nooks or crannies in which dirt could hide. Once you've finished cleaning the ductwork, wash it with clean water and then dry completely before proceeding to Step Four. Step
Step Four: Replace All of the Registers
It's now time to put all the registers back in their place. Simply reverse the procedure of Step Two! Make sure they're properly secured so that no unwanted debris can get into your home through holes in the coverage.
Step Five: Turn Your HVAC System Back On
It's finally the time to turn your HVAC system on again and enjoy fresh air that is fresh and fresh throughout your home!
And there you have it–a step-by step guide to cleaning your air ducts in your home! We hope you find this helpful and that you now feel confident taking on the task on your own. Be aware of your surroundings when working with your HVAC system and always consult a professional if you have any doubts about whether you are able to safely complete a task.
How can you stop condensation on air ducts in Windcrest?
how to get animal out of the air duct in Windcrest?