When you're dealing with upholstery made of fabric such as sofas, it is often difficult to clean without leaving behind water or detergent marks. This can be particularly problematic if the sofa is expensive or a family heritage item. There are many methods you can use at home to wash your fabric sofa and not leave watermarks. In this blog, we will provide step-by-step instructions on how you can safely clean your fabric sofa without leaving unsightly marks or discoloration. With these steps, you'll be able to ensure that your furniture looks fresh as new, without causing damage to the fabric. In addition, we'll give tips on how to prevent the occurrence of future discolorations and stains, to keep your sofa looking beautiful for many years to in the future.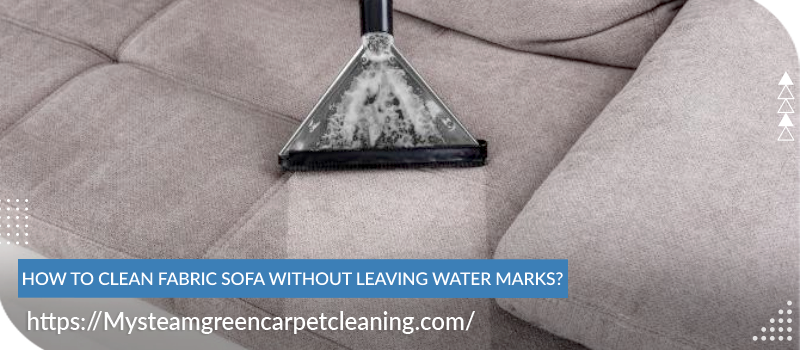 Sofa Cleaning in Bellflower isn't something you can do by yourself if you've spilled a glass of wine on your sofa. Contact My Steam for professional Sofa Cleaning in Bellflower!
Vacuum the sofa
The first step for cleaning your fabric sofa without leaving water marks is to vacuum it. This will get rid of any dust, dirt or pet hairs that could be trapped in the fabric. Make sure you employ a soft-bristled comb and gentle suction, as too much suction can damage the fabric. When vacuuming you should move the brush in a circular motion along the fabric. Also, make use of the crevice tool to reach the nooks and crannies.
Prepare the cleaning solution
The next step to take in order to clean your sofa without making watermarks is to prep the cleaner. Start by filling a bucket full of water, and adding the mild fabric cleaner or a few drops of mild soap. Mix the solution thoroughly and test it on a tiny, unnoticeable spot of the sofa to make sure the cleaner doesn't cause discoloration or damage. If the cleaner works then use the same solution to dampen the soft sponge or cloth and begin clean the furniture. Avoid scrubbing in order to avoid leaving water marks.
Test the solution in an inconspicuous area
Before you commit to a particular cleaning solution, test it on a small area of the fabric sofa. This will help ensure that the solution won't harm the fabric, cause discoloration, or leave water marks. If you're sure the solution is safe to apply to the area that needs to be cleaned. Allow it to remain for the recommended amount of time. Once the time you have specified has passed, employ a soft, clean cloth to remove all solution off the material, and then let the fabric dry completely.
Gently dab the fabric with a damp cloth
Once you have vacuumed or removed all dust and debris It's time to work on any spots or stains that remain. Use an damp cloth in the circular motion in order to eliminate the stain. Be sure to apply a gentle touch and to not scrub or rub too vigorously, as this could harm the fabric. Apply a mild detergent if required and wash the fabric in warm water before re-applying it. Be careful not to soak the fabric or leaving any fluid on the couch because this can leave water marks.
Allow the couch to air-dry naturally
Once you have cleaned the sofa spotlessly after which you should allow it to air dry. If you attempt to dry the sofa using a cloth or a hairdryer, you risk leaving water marks or worse, shrinking the sofa's fabric. Instead, let the sofa air dry naturally. Unblock your windows and give the fabric plenty of time to air dry. If your sofa is still damp after a few hours, use a hairdryer with the lowest setting to finish drying the sofa.
In the end, sofas made of fabric can be a challenging furniture piece to keep clean with out leaving water spots. By following the proper steps however, you'll be able to effortlessly clean your sofa with no damage. Start by vacuuming, then use a mild detergent and warm water to scrub the area, and finish by blotting with a dry , clean cloth. By following this procedure, you can keep your fabric couch looking fresh clean and clear of any water spots.