Cleaning and maintaining a comfortable, clean and inviting living area is an essential part of house maintenance. While regular vacuuming and dusting can help to ensure that your furniture looks and feels nice, upholstered pieces such as sofas need special attention to make sure they appear the best they can. While vinegar is a popular ingredient used in a variety of homemade cleaning products, sometimes it's just not the right choice. In this blog post, we will explore the steps needed to clean your fabric sofa, without the use of vinegar, whether there's a simple stain or need a deeper clean. If you've recently purchased a new sofa or are trying to revive an existing one, this post will provide the knowledge you need to maintain the fabric and keep it looking great.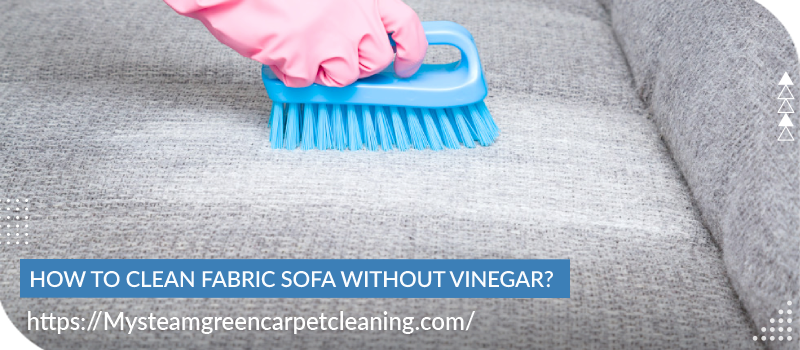 Sofa Cleaning in Arlington isn't something you can do by yourself if you've spilled a glass of wine on your sofa. Get in touch with My Steam to get a professional Sofa Cleaning in Arlington!
Vacuum your fabric sofa regularly
One of the most effective ways to keep your fabric sofa spotless without vinegar is to vacuum it regularly. Vacuuming helps to remove dirt, dust and other debris off the fabric's surface and from crevices and corners. Make sure you use an appropriate vacuum cleaner attachment to access those corners and crevices. Cleaning your sofa frequently can help to avoid dust build-up and keep it looking clean as well as smell fresh.
Make use of a soft cloth soaked with water to wash away the stains
To clean sofas made of fabric without vinegar, you could use a soft cloth dampened with water. Be sure that the cloth isn't dripping wet as too much water can harm the fabric. The cloth should be gently dabbed onto the stained area and wipe away the dirt. Repeat this process until the stain is gone. If needed, you could make use of a mild cleaner, for instance, a mixture of detergent and water however, make sure to test the solution on a small, hidden spot first to make sure it doesn't discolor the fabric.
Use baking soda to remove any smells
Another odor-fighting solution is to use baking soda. Sprinkle some baking soda over the entire surface of your sofa's fabric and allow it to sit for at the least an hour. Baking soda can help in absorbing any odors that might be lingering in the fabric fibers. Once the time has elapsed, vacuum the baking soda off of the fabric , and throw it away in the garbage. This solution is great to eliminate pet odors as well as smoke and other unpleasant smells.
Blot up stains with a sponge or soft cloth
After you've cleaned the fabric sofa, it's time to get rid of any stains that might have accumulated over time. To tackle this, first wipe off any stains using a sponge or soft cloth. Start by blotting the area using a damp cloth to remove the stain. If there's visible staining, you can either make use of a non-abrasive, safe fabric cleaning solution or a mixture of dish soap and water. Gently massage the mixture onto the fabric with a sponge or cloth, then wash with a clean, damp cloth. This should lift the stain without damaging the fabric.
Air dry the sofa and keep away from direct sunlight or direct heat.
After cleaning the sofa using an easy detergent, you must dry it completely without the sun's direct heat or. Set it up in the shade and away from direct sunlight and allow the sofa to dry completely. Doing so will help to prevent the fabric from fading or discoloring. Also, ensure that the fabric is dry before using it because this helps to prevent mold and mildew from forming.
In conclusion, cleaning a fabric sofa without vinegar is feasible with the use of borax, baking soda, or dish soap and water. These cleaning products are efficient and don't cause any unpleasant odors. In addition the use of a vacuum and fabric brush can help to get rid of dirt and other debris from the fabric. By following a few easy steps, you'll be able to remove dirt from your sofa, making it look like new again.
How do you get your kitten to get out of the couch in Arlington?
how to clean sofas at home in Arlington?