Clean sofas are an important part of maintaining a neat and tidy living space. How do you clean a sofa without leaving water marks that may damage its appearance? It is possible to wash a sofa without leaving any damages behind. All it requires is a bit of knowledge and the appropriate cleaning supplies. In this blog, we will go through the steps required to efficiently clean a sofa, without leaving any watermarks. We will also go over useful suggestions for keeping the appearance of your sofa in the future and the best cleaning products without causing damage to the sofa. With the advice offered, you'll be able to keep your sofa looking as good as new for many years to be.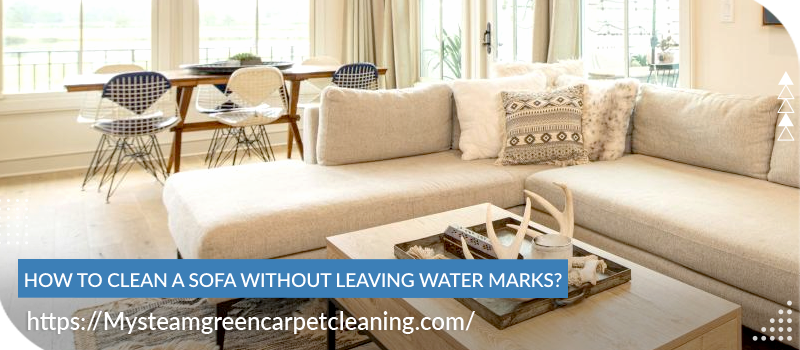 Did your pet urinate onto your couch? You don't know how to do Sofa Cleaning in Aurora? Don't worry about it! Make a call to My Steam for a professional Sofa Cleaning in Aurora!
Vacuum the surface
Before you begin cleaning your sofa, you need to vacuum the surface to eliminate any dirt and dust. This will make your sofa easier to clean and also prevent particles from becoming embedded into the fabric. Utilize an upholstery attachment to access the crevices and eliminate any dirt that is stuck within the fabric. Make sure to vacuum both the cushions and rear of your sofa. This is the most important aspect of how to clean your sofa without leaving water marks!
Make use of a clean cloth to get rid of dirt
After you've vacuumed after which, you can proceed to the second step: use a dry cloth to get rid of any excess dirt or dust. This step is important because if there is too much dust on your sofa, the dirt may be forced into the fabric, leaving a sloppy watermark. Begin by using a dry cloth and gently run it over the entire surface the sofa. The cloth should pick up any dirt and dust, however be careful not to press too hard and cause damage to the fabric. If necessary, use another cloth to make sure that all dirt is eliminated.
Mix a cleaner solution with
The third step to clean your sofa and not leaving water marks is mixing an appropriate cleaning solution. Consider the type of fabric the sofa is made from first, and then mix 1 teaspoon of liquid dishwashing to 1 cup of lukewarm water. If the fabric is fragile, you can use mild shampoo instead in place of dishwashing fluid. Check the solution in a non-detectable area of the sofa to make sure it doesn't cause damage to the sofa.
Use a damp sponge to wipe the surface clean.
The fourth step for clean your sofa without leaving marks of water is to use a damp , clean cloth. Start by wiping the surface of the sofa with a clean, damp cloth. This will assist in removing any dirt and dust from the sofa's surface. Be sure to apply a soft cloth and not a hard one, since this can result in scratches to the surface. After you have cleaned the surface using a dry cloth, you can use it to completely dry it to avoid watermarks.
Wipe with a dry cloth to get rid of any remaining substance
After you have completed the four steps, the final step to clean a sofa without leaving water marks is to wipe with dry, clean cloth. This will help remove any residue that could be left behind from your cleaning procedure. It is recommended to use a soft cloth and make sure that you go over the entire surface of your couch to make sure that every bit of the residue has been removed. Depending on the type of material your sofa is made of, you may have to apply different cleaning solutions be sure to follow the directions carefully prior to using any cleaning solution.
In the end, cleaning your sofa without leaving water marks is possible. Utilizing a mix of soft cleaning agents and cleaning towels, it is possible to keep your sofa looking brand new with no worries about water marks or damages. With just a bit of effort and these simple steps, you will be able to ensure that your sofa is spotless without a worry.
how to fold out sofa bed in Aurora?
How to get rid of pen marks on velvet sofas in Aurora?