Leather is a timeless material that many homeowners select for their furniture. It not only adds an elegant appearance to any space, but it's also extremely robust and easy to clean. But, as each kind of leather requires different cleaning methods it is crucial to understand how to keep your leather sofa. In this blog we'll look into the best ways to clean a leather sofa, and preserve its beauty for many long time to come. With the proper tools and techniques to maintain your sofa's appearance new. We'll cover the basics from identifying the type of leather, to choosing the best cleaning products to the best way to apply them to get the best outcomes. Prepare to learn how to make your leather sofa gleam from the top to the bottom!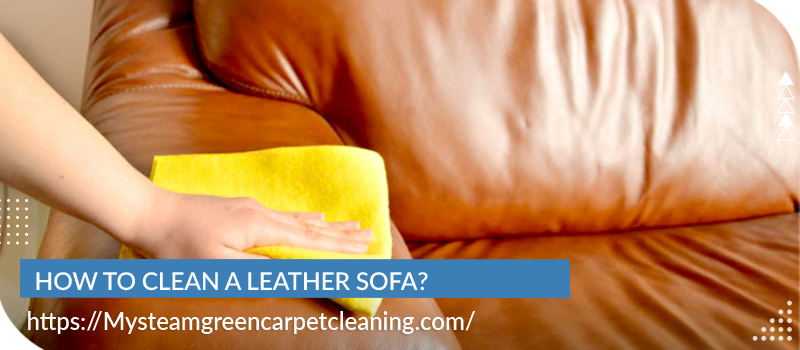 Did your pet urinate onto your couch? You don't know how to do Sofa Cleaning in Barstow? So, don't fret! Contact My Steam to schedule a professional Sofa Cleaning in Barstow!
Vacuum the sofa
Before you start cleaning your leather sofa, it is essential to first vacuum it. Use an attachment with a soft bristle to avoid scratches or damages to your leather. Start by running the vacuum along the sofa's seams along the cushion to remove any loose dirt or debris. This is a crucial step as it will allow you to thoroughly clean the fabric without pushing the dirt further into the fabric. Make sure you vacuum all the surface of the leather, not just the cushions.
The leather should be cleaned with a soft cloth
Following the vacuuming process, the next step in cleaning the leather sofa is to dust it with a soft cloth. Use a soft, clean cloth and gently dust the entire surface of the leather. This helps to remove dust, dirt and other debris that could have a negative impact on the leather. Be careful not to apply too much pressure to the leather or you risk damaging it.
Utilize a leather cleaner clean dirt and remove stains
The use of a leather cleaning product is essential to get rid of stain and dirt from your sofa. It is crucial to choose a product specifically made for leather as other cleaning products could harm the fabric. First, vacuum the entire sofa to eliminate any debris and dust. After that, apply a tiny amount of leather cleaner to a soft cloth to gently apply it on the leather. Make sure that you completely cover the surface of the sofa. Clean any cleaner that has accumulated with a clean cloth. Finally, use a conditioner for leather to give the leather a boost and shield it from any damage that may occur.
Clean the leather using a conditioner for leather
Once you've cleaned your leather sofa, the last step is to condition the leather using a leather conditioner. Leather conditioners help maintain high-quality leather, and help keep it looking like new. Use products specifically made for leather, since other products can damage the material. Apply the conditioner using an easy cloth, and use gentle circular motions to ensure a uniform coverage. Allow the conditioner to dry for a few minutes before buffing the leather using a dry cloth.
Wipe the leather clean with a moist cloth
Once you've removed any surface dirt, it's time to clean the leather using an damp cloth. It is best to apply a cloth that is damp and not wet. You should also be sure to use a gentle detergent, such as a mild dish soap to avoid damaging the leather. Use on the fabric in an arc manner, making sure to cover the entire surface of leather. When you're finished, make sure to allow the sofa a few hours to dry before you use it again.
In the end, understanding how to clean leather sofas is an easy process that requires regular maintenance and the usage of safe and natural cleaning products. Cleaning leather furniture can extend the life for your furniture and ensure it looks good for years to be. Cleaning and maintaining furniture made of leather is crucial to preserving the material, preventing destruction, and preserving its appeal and value.
How often do you vacuum under your sofa in Barstow?
how to clean sofa upholstery at home in Barstow?