Testing air ducts for mold can be a difficult job, since not all households have the necessary tools or knowledge to properly examine their air ducts. Unfortunately, this means that many households are unaware of the presence of mold in their air ducts, and if it is not detected this can have significant implications on the health of those who live there. In this blog we will explain the importance of testing your air vents to detect mold and the most effective methods to identify and eliminate it. We will also offer step-by step guidelines on how you can inspect as well as clean the air ducts, along with guidelines on which substances to stay clear of in the event of mold. If you take the appropriate steps and following the recommended steps, you can be sure the air-ducts are free of mold and your family is able to breathe easily and comfortably.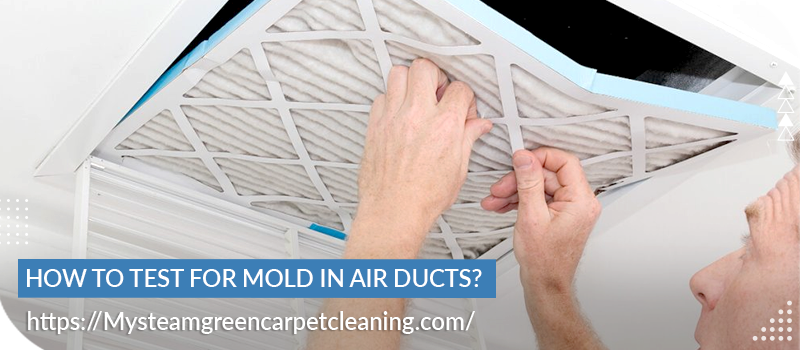 We can help you eliminate the mold that has settled in your air ducts and improve the air quality you breathe by providing professional Air Duct Cleaning in Zena. Call My Steam Green today! to schedule an appointment for Air Duct Cleaning in Zena!
Inspect the air ducts for visible mold
The initial step in testing for mold within air-ducts is checking the air ducts for visible mold. The visible mold is seen in a variety of places, so it's important to look in all areas of the air ducts. Look for any discoloration, streaks, or indicators of mold that are visible on the inside surfaces of the air-ducts. If you see visible mold, contact an expert right away to conduct further tests and resolve the issue.
Conduct an air sampling test
After you have inspected the ductwork, it is important to take an air sample test to determine the kind of mold present and the amount of air. To do this you must have a mold sampling kit. The kit should comprise sampling cassettes as well as the air sampler pump and an air cassette holder to hold the sampling cassettes. The sampling cassettes must be placed in each air outlet and the pump should be used to draw air out of the outlets. After taking the sample, the cassette holder should be used to transfer samples to laboratory for analysis. This will allow you to determine the type and amount of mold that is present in the air ducts.
Examine for visible growth of mold by using a moisture meter
The final step to test to detect mold inside air-ducts is to check for signs of mold growth with a moisture meter. This is a crucial step since it helps you identify the areas in the air ducts most affected by the growth of mold. You should be looking for areas that have excessive moisture, as they are the ones that are most likely to be affected by mold. The moisture meter must be used to assess the moisture in the air ducts, and any other areas that may have been exposed to moisture or water. Once the readings have been made it is simpler to pinpoint any areas that may be prone to mold growth.
Use a mold test kit to identify mold spores
In the event that you are concerned about presence of mold within your air ducts, one of the most effective ways to check for the presence of mold is to use the mold testing kit. Mold testing kits generally come in two forms such as swab kits and kit for air sample. Swab kits permit you to collect the visible mold samples and send samples to a lab to be analyzed. Kits for air sampling are much more reliable since they can spot tiny traces of mold spores within the air. Both types of kits can be used to detect mold growth in air ducts and are recommended in conjunction with a complete mold testing plan for your home.
Engage a professional for more tests, if needed.
When conducting tests for mold in air ducts it is important to consider hiring a professional to conduct additional tests if needed. This is especially important in the event that visible mold is found, or in cases where the odor is intense and persistent. Professional mold testing services will provide an in-depth analysis of the air quality and can determine the likelihood of exposure the airborne mold and spores. Professional testing may also include the use of special collection tools and laboratory analysis to identify the type of mold that is present.
In conclusion, testing for mold in air ducts is an necessary procedure to help ensure the health and safety of your family members. There are a variety of methods to check for the presence of mold, such as air sampling, tape lift samples, surface swabs as well as bulk samples. Regardless of the method chosen to test for mold, it should be conducted by a certified mold inspector to ensure the accuracy of results. By taking the proper steps to examine for mold can provide you with confidence and will ensure the health of your loved ones is protected.
How do you fix a broken air duct in Zena?
do air ducts have to be cleaned in Zena?