When it comes to maintaining the quality of air in your home One of your main issues should be to inspect your air ducts for any signs of mold. Regular inspection of air ducts is the best method to stop mold from becoming a problem and spreading throughout your home, resulting in poor air quality and possibly serious health problems. Knowing how to spot the signs of mold growth in your air ducts and conducting regular inspections is an essential element of your home maintenance schedule. In this blog post, we will provide step-by step instructions on how to examine air ducts for mold, as well as provide suggestions for preventing mold from forming in the near future. If you have the right information and methods, you will be able to ensure that your air ducts stay free of any mold, and the air quality stays secure. Read on and be sure to regularly check your air ducts for mold!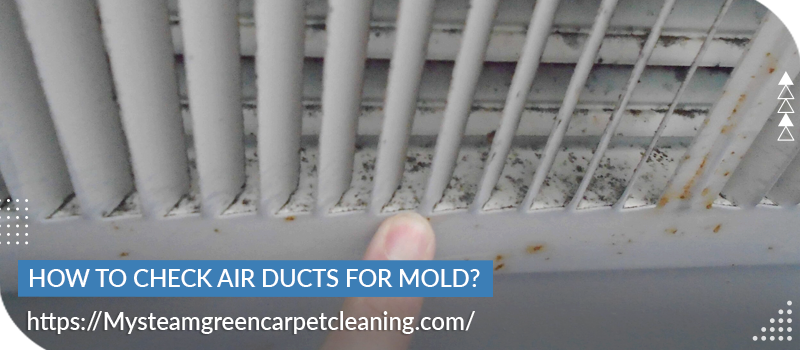 The absence of routine Air Duct Cleaning in Winterville could have catastrophic results. Molds, pollutant, and much more. Call My Steam Green today to schedule your professional air clean-up appointment!
Locate air ducts and identify areas of concern
The first step to test air ducts for mold is to identify all the air ducts that are in the property. This could involve a crawl in basements, attics and other hard-to-reach places. After all air ducts have been located, inspect them for signs of mold, including visible signs of growth, water damage, or discoloration. Pay close attention to any areas in the ducts that could be prone to water damage, for instance near air conditioners, in the areas where 2 pieces of ductwork come together in the vicinity of windows or other water sources. This is the area that require to be examined the most closely.
Use a flashlight to visually examine air ducts for evidence of mold
One of the most effective ways to test the air passages of your home for mold is by using a flashlight. Visually inspecting every air duct by shining light on them can help you identify any indications for mold or mold-related spores. Look for signs of discoloration, an unusual scent, or any visible remnants that could indicate an issue with mold. If you discover mold, you need to speak with a professional assist in assessing the situation and suggest a course of action to rid the home of the mold.
Use a screwdriver to carefully let air ducts open for better access
Once you have identified areas of your home that you suspect mold may be growing, you can make use of a screwdriver to remove air ducts and give you better access. Inspect these air ducts to look for indications of growth, like discoloration or musty smell. If you find mold, it is important to take the necessary steps to eliminate the mold and stop it from coming back. Clean the area around air ducts using an antibacterial cleaner, and then utilize a vacuum or other tool for cleaning to remove the mold. It is crucial to wear protective gear while dealing with mold, such as gloves, a mask as well as eye protection.
Use a vacuum cleaner to take out any visible mold
After you have found visible mold within your air vents, then the following step is to eliminate the mold. The most effective way for this is with the aid of a vacuum. Vacuum cleaners are made to collect airborne particles making them perfect for removing mold spores from air ducts. Make sure you choose an air cleaner that has a HEPA filter so that all mold spores that you eliminate remain in the vacuum and do not be released into the air.
Take a sample of the mold that will be examined by a trained professional
If you've found the obvious indications of mold, it is possible to collect an appropriate sample for testing. Taking a sample is an important step, because it allows you to determine the kind of mold that is present and decide the appropriate course of actions. For this, you'll have to take a sample of the mold inside an airtight container. Be sure to wear gloves and protective clothing while collecting the sample and mark the containers with the dates, location and kind of mold. Once you have collected the sample, take it to a laboratory that is accredited to be tested.
In the end, examining for signs of mold in the air ducts of your home is an important step in keeping your home clean. home. Conducting regular inspections and cleaning of your air ducts can assist in identifying the presence of mold before it becomes a problem which allows you to take the necessary steps to ensure your air ducts remain free from the spores and other pollutants. To keep your air ducts clean and healthy air ducts, it is essential to check them regularly and clean them regularly.