Mold is a common issue that many homeowners face when exposed to excessive levels of humidity. Left unchecked, it can cause major damage to carpets and other surfaces, leading to expensive repairs or replacements. It's important to understand how fast mold can develop on wet carpetsas this will affect the speed at which you should act to tackle the issue. In this blog we'll give you an in-depth look into the development of mold, and the speed with which it grows on wet carpets. We will also offer specific advice on the best methods to stop and treat mold growth on carpets. Knowledge is power and understanding the speed at which mold can grow on wet carpets will empower you to stop or prevent any mold growth within your home in a timely fashion.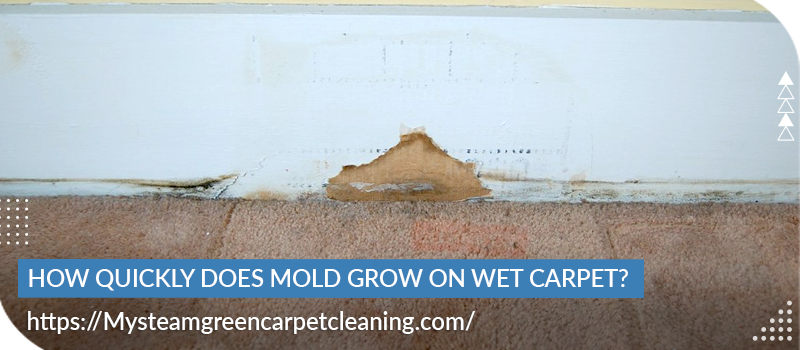 Pet urine is a problem and requires Carpet Cleaning in Monrovia! It could cause odor and can spread diseases. but My Steam Green Carpet Cleaning in Monrovia is here for hygienic Carpet Cleaning in Monrovia once and for all! Contact us today!
Factors that affect the growth rate
The rate of growth of mold on wet carpet is affected by several factors. The most significant factor is how much moisture present and temperatures of the surroundings. If the temperature is high, and the carpet is damp, the rate of expansion will be more. In addition the amount of dust and organic material available for the mold to feed on also affects its rate of growth. In addition, the presence of mold spores the air can affect the rate at which the mold grows, in addition to the presence of chemical and other pollutants in the air and within the carpet. Finally, the type of mold involved and the rate at which it naturally growth also affects how quickly it grows on wet carpet.
The signs of growth of mold
The growth of mold on carpets that are wet is a very common issue but it can be difficult to identify. The most typical signs of the growth of mold on wet carpets are discoloration, and musty odors. Discoloration can range from a light grayish to deep black or dark brown color and the musty odor is often described as similar to wet socks. If you notice either of these symptoms it is crucial to immediately identify and remediate the mold growth. Other indicators of growth include the visible growth of slimy, fuzzy or dusty patches on carpet and the presence of moldy debris on the carpet surface.
Steps to prevent mold
If your carpet is wet It is crucial to take steps to prevent the development of mold. Three steps you can take to ensure that your carpet doesn't turn into a moldy mess:
1. Clean the rug as soon as you can. Use fans and dehumidifiers to speed up the drying process.
2. Make use of an antimicrobial product to combat any existing mold spores.
3. Regularly vacuum the carpet using regular vacuuming using a HEPA filters-equipped, high-powered vacuum to keep any mold from growing.
By following these steps, you can prevent the growth of mold on wet carpets and maintain the health of your home.
How do I get rid of the growth of mold
Mold growth on wet carpets is common, particularly in warm, humid environments. However, once it has taken hold, it can be difficult to get rid of. The best method of getting rid of mold on carpets is to vacuum it up and then completely dry the carpet since mold cannot thrive in damp environments. There are also chemical solutions for removing mold and mildew, such as bleach and anti-mold products. Before you apply the chemical treatment, it's important that you test it on a tiny portion of carpet to be sure it won't damage the carpet's fibers or color. After the mold has been removed, be sure to do your best to avoid further mold growth, such as using area rugs to protect carpets from moisture as well as a dehumidifier. Also, making sure that your home is ventilated.
Mold exposure poses health risks
When wet carpet is not dried quickly, mold can start to develop in as little as 24 hours. The growth could pose grave health hazards, particularly for people suffering from asthma, allergies or weak immune systems. The effects of mold can be as diverse as sneezing and coughing, itchy eyes and skin nasal congestion, as well as throat irritation. In extreme cases, inhaling mold can cause serious respiratory infections, especially for those who already have weak immune systems. It is crucial to dry carpets that are wet as fast as you can to stop the growth of mold.
In conclusion, mold growth on wet carpet is a serious problem which can have negative health effects as well as costly cleanup. To stop the growth of mold, it is essential to swiftly identify and fix any issues with moisture within your home including plumbing leaks or roof leaks. Inspect carpets on a regular basis for evidence of water damage. Have them professionally cleaned when needed to keep the home safe and healthy.
How do you get paint from carpet in Monrovia?
How can you wash carpets without the aid of a machine in Monrovia?