The majority of people don't think about the central air-ducts until there's problems. But did you know that cleaning the ducts in your central air system can increase the quality of your home's air and can even aid in saving money on your energy bill? In this blog post, we'll tell you everything you must be aware of to keep your central air ducts clean. Learn more about it!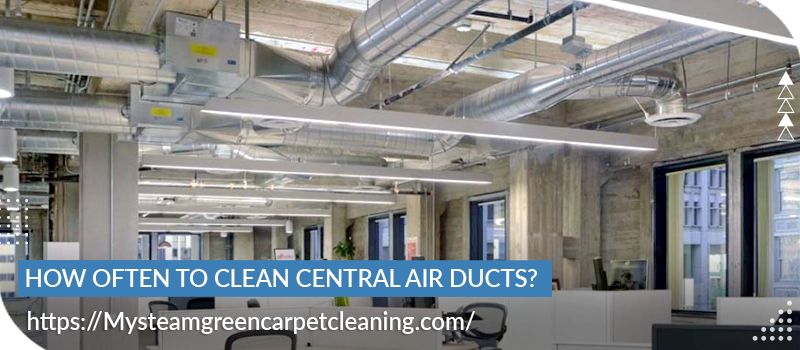 The lack of routine cleaning of the air ducts can have disastrous consequences. molds, pollutants and much more. Call My Steam Green today to set up your Air Duct Cleaning in Wyncote appointment!
3 Reasons Why You Should Clean Your Central Air Ducts Regularly
1. Improved Air Quality
One of the major benefits of regularly cleaning your central air ducts is improved air quality. In time, dust, pollen, and other allergens may build up in the ducts. When your AC is turned on these allergens are circulated throughout your home. This could trigger asthma attacks or allergies and make it difficult to breathe for everyone in your home. However, by maintaining your ducts in good condition it will improve the quality of the air in your home and decrease the chance of having these respiratory ailments.
2. Lower Energy Bills
Another reason to clean the ducts of your central AC regularly is to help you save costs on your energy bills. When dirt and debris accumulate in your ducts, it could block airflow and make it more difficult to allow your AC to do its job. In the end, your AC will have to be more efficient (and require much more power) for cooling your property. This will end up costing you more each month. However, if you keep your ducts clean, you can maintain good airflow and prevent this from occurring.
3. Fewer Repairs
In addition to saving costs on energy consumption Regular duct cleaning can help you avoid costly repairs for your AC unit. As time passes, particles and dirt that accumulate within your ducts could cause damage to delicate AC components such as coils and fans. If you keep those parts clean with regular cleaning of your ducts the components will last longer and not need replacing as frequently. This means less repair costs for you later on!
As you can see, there are plenty of good reasons to keep your central air ducts clean. How often do you clean them? The answer may surprise you–most experts suggest having them cleaned at least every 3 to 5 years! However, if anyone in your household has asthma or allergies, you may want to get them cleaned more often (perhaps once a year or once every two years). If you own animals, the fur can also contribute to clogged air ducts, so you might want to think about having them cleaned more frequently too. No matter what frequency you choose be sure to keep it in mind the importance of regular maintenance. Regular cleaning key for maintaining airflow and avoid expensive repairs!
How do I become certified in the field of Air Duct Cleaning in Wyncote?
can mold grow in air through ducts in Wyncote?