Carpets are often magnets for dirt and other debris, leaving them looking unpleasant and dull. While regular vacuuming can help keep them looking good, there are times when a deeper Carpet Cleaning in Foresthill is necessary. How long do you need to be away from your freshly cleaned carpets? In this blog we'll look into the answers to this vital question, offering professional suggestions and tips to ensure your carpets are in top shape. We'll examine how important it is to allow carpets to fully dry before you walk on them as well as the possible dangers of using them immediately. We'll also discuss why it's important to be aware of the cleaning products used, as some may require longer drying periods over other. After reading this article, you'll be equipped with an understanding of the length of time you need to stay off your carpets after cleaning them, and ways to make sure your carpets are in good condition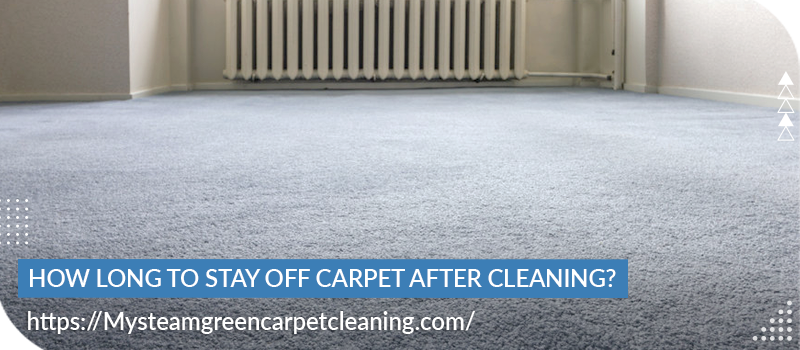 Your carpet's condition could be the reason behind your asthmatic symptoms. My Steam Green Carpet Cleaning in Foresthill is here to hygienically clean your carpets using non-toxic chemicals! So call us today and schedule your Carpet Cleaning in Foresthill appointment!
Allow carpet to dry completely
After you have cleaned your carpet, it is essential to allow it to completely dry before taking a walk or placing furniture over it. This is crucial when you have utilized a chemical cleaner since leftover moisture can cause the chemical to soak into the carpet's fibers which could be harmful. In the event of a storm and humidity, it can take up to two days for the carpet to dry completely. To ensure that the carpet is completely dry, put some fans in the space to accelerate the drying process.
Vacuum the carpet after the carpet is dry
When the carpet is dry completely, it's time to vacuum the area. Vacuuming removes any dirt and debris that might be left behind by the cleaning process. It also aids in restoring the carpet pile and make the space appear fresh and inviting. Use the right vacuum cleaner with adjustable suction settings to prevent damaging the fibers of the carpet. It's recommended to choose a vacuum that has an HEPA filter to catch any dust and allergens that might be in the space.
Be sure that the area is free of any residues that may remain.
After you've completed the cleaning process, it's important to ensure that the surface is clean of any residue left behind to ensure that it doesn't cause damage. First, use a wet vacuum cleaner to remove any remaining moisture as well as cleaning solutions. After that, use a dry cloth to clean any remaining residue. Then, you can use the fan to dry the areas that remain damp. Be sure to look over the floor regularly for wet spots. Once the area is completely dry, you are able to walk on the carpet again.
Check the area to make sure it's safe to walk on.
After you have finished cleaning the carpet, it's important to test the area to ensure it is suitable for walking on. Be sure to wear appropriate footwear when walking on the carpet to test it. If you feel the carpet is damp or damp, you should be patient until it's completely dry before walking on it. After the carpet has dried look for any spots or stains and ensure that they have been totally removed. It is also essential to check for indications of mildew or mold prior to walking onto the flooring. If any are found you must take the appropriate steps to address the issue before going on the carpet.
Bring furniture back to the area only when it's completely dry and safe to do so
After cleaning your carpet, it's important to be patient and let it dry completely before returning any furniture to the space. Based on the type of cleaning method you've used drying can last anywhere from a few hours to several days. It is essential to ensure that your carpet is dry and secure prior to placing furniture over it. This will help to prevent any further damage to your carpet, like discoloration or staining. Once it is totally dry and suitable to do so you can return your furniture to the space.
In the end, it's important to wait the recommended amount of time prior to walking on a carpet that has been cleaned to ensure that any extra moisture has gone away and the carpet is completely dry. Allowing the carpet to dry thoroughly can also make sure that the cleaning solution is completely neutralized and the carpet fibers remain undamaged. The time spent waiting will yield a dried, safe and clean carpet that will last for a long time.
how can I cover up carpet without removing it in Foresthill?
Do you require an underlay for your carpet in Foresthill?