The proper maintenance of the air ducts in a mobile home is incredibly essential. Air ducts in mobile homes provide the most essential service, they ensure that your home's air is healthy and clean. The air ducts can become clogged with dirt, dust, and other contaminants over time, which can lead to poor air quality and an increase in energy bills. Fortunately, there are several methods you can follow to effectively maintain and clean the air ducts in your home mobile. In this blog we'll talk about how to clean air ducts in mobile home in an effective and efficient manner. We'll provide tips on how to properly check the air ducts and keep them in good condition as well as provide most efficient methods for cleaning air ducts. No matter if you're a homeowner or professional tech, this article will provide you the knowledge you need to keep your home's air vents clean and in like-new condition.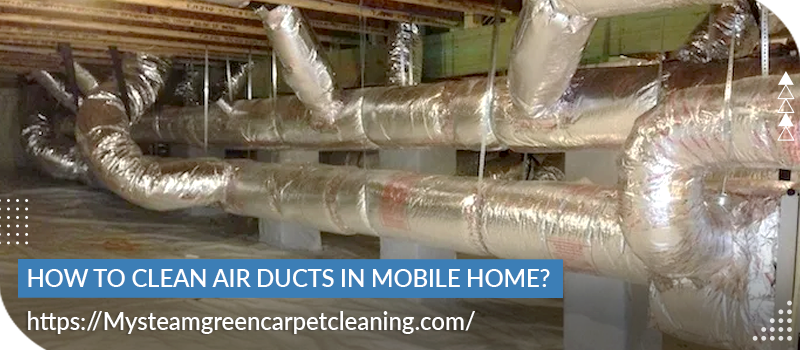 Air ducts can be covered in dust and many harmful allergens and require air cleaning. You don't have to worry just call My Steam Green to get Air Duct Cleaning in Windsor at your home!
Prepare the area for cleaning
Before you begin cleansing the air vents in your mobile home, it is important to prepare the area. Start by turning off the power supply to the air ducts by unplugging it from the wall or by turning off the circuit breaker. The next step is to remove all curtains, furniture, or other items that might hinder your air-ducts. Clean the floor thoroughly to remove any debris or dust which may be present. Then, use a ladder to access the air ducts that are higher and use gloves to protect your hands when cleaning.
Clean any large debris out of the vents
Prior to cleaning the air ducts of the mobile house, it is crucial to eliminate any large debris such as leaves, cobwebs, or dust bunnies. These big pieces could disrupt the cleaning process, and if left behind it, could result in more dust and dirt being released when the air ducts turn on. To remove these large chunks of debris, use a vacuum with a long pipe attachment to remove any large pieces. Be sure to reach into the nooks and crannies of the pipes. If debris has become stuck and is not able to be removed, then use a soft brush to gently remove them.
Clean the ducts using an HEPA filter
After you have finished vacuuming dust, dirt and other debris out of the areas that are accessible to air ducts it is important to vacuum the inside of the ducts by using the help of a HEPA filter. This is due to the fact that a HEPA filter is capable of capturing very small particles that traditional vacuums aren't capable of capturing. To accomplish this, you will need to purchase a HEPA filter vacuum attachment and then attach this to the end of the vacuum line. You will then have to insert the hose into the air ducts, and move it around to suck up the small particles within the air ducts.
Make use of a brush to get rid of any dust or dirt that remains
Once you've cleaned dust and dirt out of your air ducts, it's time to use brushes to eliminate any dust and dirt that is stuck. Use a long brush to penetrate the ducts and remove any dust and dirt that's stuck to the walls. It is also possible to use an attachment on your vacuum cleaner to help you accomplish this task. Make sure you use gentle strokes when you brush the air ducts to avoid damaging them. Once you've brushed away dust and dirt then you can clean the air ducts a second time to ensure that they're in good condition.
Install the ducts, and then test the system to ensure proper airflow
Fifth, reinstall the ducts and test the system to ensure proper airflow. Make sure all the pipes are connected and sealed correctly. When the new ducts are installed, you can make use of a thermometer to test for proper airflow. This will help you determine if the steps implemented so far have achieved the desired effect. You can also use an air flow meter to measure the speed of air as it traverses the air ducts. If the speed of air is too low, the system may not be delivering sufficient air to the various rooms of your home.
In the end, cleaning your air ducts in the mobile house is a simple and inexpensive method to improve the air quality in the home you are living in. By regularly cleaning your air ducts, you will lower the amount of dust, dirt and other allergens that move in your residence. Cleaning your air ducts can also help you save on energy bills by enhancing the effectiveness in the system for air flow inside your home.