If you have a pet and have had to deal with the occasionally "accident." It doesn't matter if your dog is being potty trained or is just prone to accidents, having to deal with odors and stains on your carpets is a part of living with your furry companion. In this blog we'll offer tips on how to clean the dog's pee stain off your carpet so that you can get back to enjoying your time with your pet.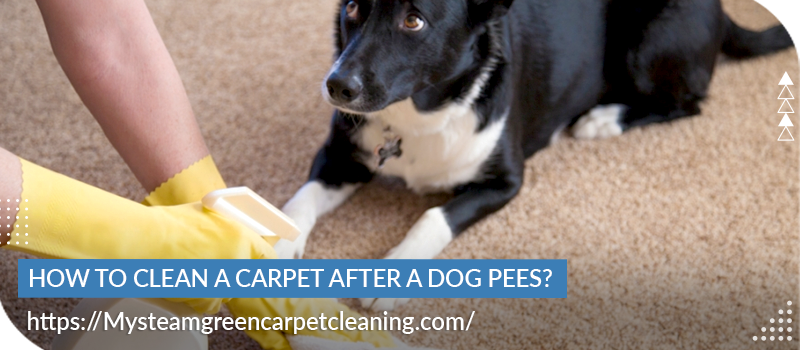 Pet urine is a problem and requires Carpet Cleaning in Colton! It can create odors and spread disease. But My Steam Green Carpet Cleaning in Colton will ensure that your carpet is clean and healthy cleaning, once and for all! Contact us today!
Blot the Area With a Clean Cloth
It is the first thing to blot off as much urine as you can using an unclean cloth. Don't rub the cloth into the carpet, as this can only spread the stain and make it harder to clean later. Just gently press down on the cloth, then lift it straight up. Repeat this until more urine can be taken up by the cloth.
Apply Distilled White Vinegar
After you've removed as much urine as possible then it's time to apply distilled white vinegar to the area. Sprinkle a tiny amount of vinegar onto the stain and then wipe it off with a clean towel. The vinegar will help dissolve the enzymes in the urine and remove any residual odor.
Sprinkle Baking Soda On The Stain
After you've applied vinegar on the stain, sprinkle baking soda over top of it. Baking soda will absorb any moisture that remains in the carpet, and will help to deodorize the area. Let the baking soda remain for a while (or overnight) before you vacuum it up.
Vacuum Up The Baking Soda
When baking soda has had time complete its work, clean all the powder with the normal attachment for your vacuum. If there's an odor that persists after you have completed the steps above, then you might have to contact professional carpet cleaners who have specialized equipment and chemicals to remove difficult stains and odors.
Cleaning up pet accidents don't have to be a pain! If you follow these easy steps, you can easily remove dog pee stains from your carpet with no hassle or stress. Just remember to act quickly wipe the area gently, and then use baking soda for best results!