A sofa made of fabric in your home is an excellent way to add the look of a room. But when it comes to keeping it in good condition, the thought of having to utilize water can be daunting. Water can destroy fabric furniture if it is not used properly however, how do you clean your sofa without water? In this blog we'll discuss the best methods to clean your fabric sofa without worrying about furniture being damaged because of water. We'll cover a variety of aspects from cleaning up stains to sanitizing and more. With these tips the sofa you have chosen to buy will keep looking great and feeling fantastic for a long time. If you're seeking ways to keep your fabric sofa looking its best without using water, read on.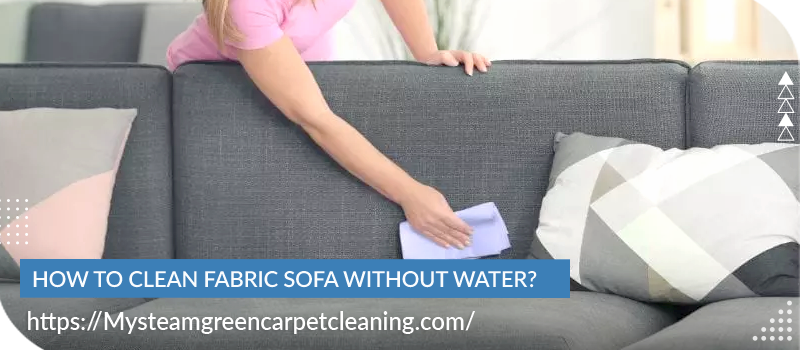 Sofa Cleaning in Albany isn't something you can do using DIY methods if you've spilled wine on your couch. Contact My Steam for professional Sofa Cleaning in Albany!
Vacuum the sofa
The first step in cleaning your fabric sofa without water is to vacuum it. This removes dust, dirt and particles that have stuck in the fabric. Make sure you use the vacuum attachment to access all places and crevices. You may also want to employ an upholstery cleaner to remove any dirt that is more deeply embedded in the fabric. Make sure to empty the vacuum bag or canister following every time you use it so that dirt doesn't get scattered all over.
Cleanse dust, dirt and hair
Before you start cleaning your fabric sofa without water, start by removing any dirt, dust or hair that might have built up on the sofa. This can be done using a vacuum cleaner or dust cloth, or a lint roller. Be careful when using a vacuum cleaner in order to avoid using excessive force can cause damage to the fabric. If you are using a lint roller be sure to use it in one direction, and not back and forth, as this can damage the fabric. Once the dust, dirt and hair are gone, you can proceed onto the next stage.
Spot clean with a stain remover
Spot cleaning with an agent to remove stain is a fantastic way to remove dirt from fabric using water. First, determine the stain, and then apply the appropriate product for the type of stain. You may need to do some trial and error to find the best product for your particular fabric. When you've identified the right product you can apply a small amount to the stain and gently rub the fabric with a circular motion. Let the stain be in the fabric for few minutes before using a clean cloth to wipe away the stain and the product. Be sure to vacuum any leftover product off the fabric afterward.
Make use of an upholstery cleaner
Upholstery cleaner is another excellent product to use for cleaning your sofa's fabric without water. Upholstery cleaners come in several types, including foams, creams, aerosols, and sprays. Before using the cleaner, it is essential to follow the directions carefully and understand how to utilize the product correctly and safely. In general, you'll have to apply the product on the sofa and rub it in using a soft cloth. A cleaner for upholstery can remove dust, dirt, and stains off a sofa without the requirement for water.
Finish with a fabric protector
Once the sofa has been vacuumed dry, it's the time to finish with a fabric protector. Spray-on protectors for fabric are excellent to use for this, since they offer a layer of protection that helps repel dirt, liquid spills, and other particles. To get the most effective outcomes, adhere to the directions on the bottle and be sure to cover the entire surface of the sofa. Additionally, you may need to apply the fabric protector each few months, depending on the amount of usage the sofa is exposed to.
Cleaning your sofa's fabric with no water is easy and can be accomplished using items commonly found in most households. Not only is this method effective in cleaning your sofa but it can assist in preventing water damage and discoloration that may occur over time. If you're looking for an simple and fast method to clean your sofa, or want to avoid the mess caused by water this method is a great option.