When it comes to maintaining a healthy and safe living environment air ducts play an essential role. Air ducts are a crucial part of any HVAC system and are accountable for providing safe and healthy air to businesses and homes. Unfortunately, air ducts may become clogged with dust, dirt, and other debris in time, resulting in poor air quality and a variety of health issues. Fortunately professionals offering Air Duct Cleaning in Wonder Lake services are available to keep your air ducts in optimal condition. In this blog post, we will explore the methods used by professionals to help air duct cleaners cleanse air ducts as well as the advantages of having your air ducts professionally cleaned.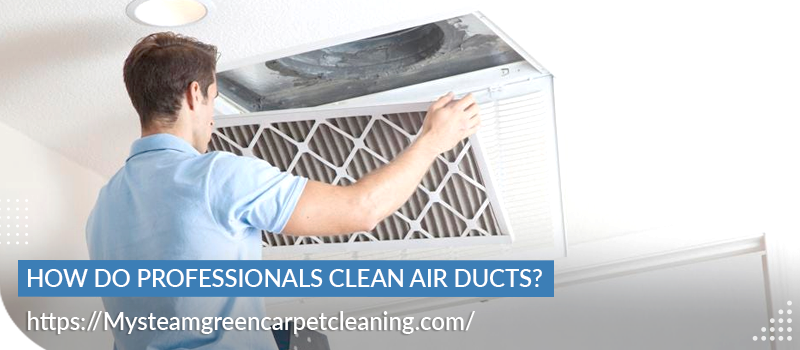 The lack of routine cleaning of air ducts could result in devastating results. Molds, pollution, and much more. Therefore, call My Steam Green today to schedule your professional air vent cleaning appointment!
Thoroughly inspect the air ducts
Professionals start by thorough inspection of the air ducts inside your home. This is done to determine the extent of the cleaning, and to make any repairs necessary. When inspecting technicians will search for any signs of mold, mildew, and other contaminants, in addition to any areas where the ducts are affected or have become blocked. They'll also be aware of the shape and size of the ducts as they will be able to determine the best method of cleaning and the best materials to use.
Make use of a vacuum to eliminate dirt and other debris
Professionals utilize a powerful vacuum to clean dirt and debris out of air vents. The vacuum is equipped with a long hose that is inserted into the air ducts to suck out the dirt, dust, as well as other debris that have accumulated into the system. It is crucial to use the vacuum that has an HEPA filter in order to make sure that air cleaned as it is taken out. By doing this, you can reduce the likelihood of the dust being recirculated back into the air ducts.
Use a cleaner solution to the air ducts
Following an initial inspection of the air ducts professionals will then apply a cleaning agent to the inside of air ducts. The cleaning solution typically comprises composed of a mild mixture of water and detergent that will help dislodge any dirt and debris that have accumulated within the air ducts. This solution is applied using a specialized cleaning tool that is connected to a pressurized hose. This tool uses the force of the cleaning solution to break through the dirt and other debris and allow it to be removed from the air vents.
Use brushes to scrub the air vents
Professional air duct cleaners make use of specific brushes that efficiently clean the insides of air ducts. Depending on the size shape, and length of the air ducts different types of brushes are utilized. Long-handled brush are utilized to get inside the ducts, while smaller ones are used to clean narrow joints and corners. Additionally, special rotating brushes are utilized to completely cleanse the interior of the ducts, as they can rotate 360 degrees, and access every nook and cranny. The brushes are connected to a powerful vacuum that collects debris and dust eliminated during the scrubbing procedure. This ensures that all the dust and debris are effectively taken away from the air vents.
Clean the vents and grilles to eliminate dust particles
One of the primary steps in professional air cleaning is cleaning the vents and grilles. This removes dust particles that have accumulated up over time, which could cause health problems. Professionals make use of specific tools, such as brushes and vacuum cleaners, to dislodge and remove the dust. They also make use of compressed air to blow the dust out of the grilles and vents. This will ensure that the air ducts remain free of dust and other particles, which will ensure the highest quality of air and improved airflow.
In the end, cleaning your air ducts is an essential component of maintaining your home. It will help to maintain the quality of air in your home, eliminate allergens and dust, and lead to better energy efficiency. Professionals are well-equipped on this task and their experience and expertise can ensure your air-ducts are properly cleaned. It is important to research the best service provider, and ensure they utilize the appropriate methods and equipment to clean those air-ducts.
Can you get rid of the odors in fiberglass air ducts in Wonder Lake?
how do I unblock air ducts in Wonder Lake?