Mold growth in air ducts is a major concern for homeowners as it can lead to health problems such as asthma, coughing, eye irritation and skin irritation. Additionally, the growth of mold can reduce the efficiency of heating and air conditioning systems, leading to increased energy bills. It is therefore crucial to take steps to prevent and treat the growth of mold in air ducts. In this blog post we will look at the reasons for the growth of mold in air ducts, the preventative actions that can be implemented, and the steps to remove existing mold. We will also talk about the importance of proper maintenance and repair of air ducts to prevent mold growth in the near future. By taking these measures and following the advice in this blog post, homeowners can keep their air ducts clear of mold and maintain an hygienic, safe, and energy efficient home.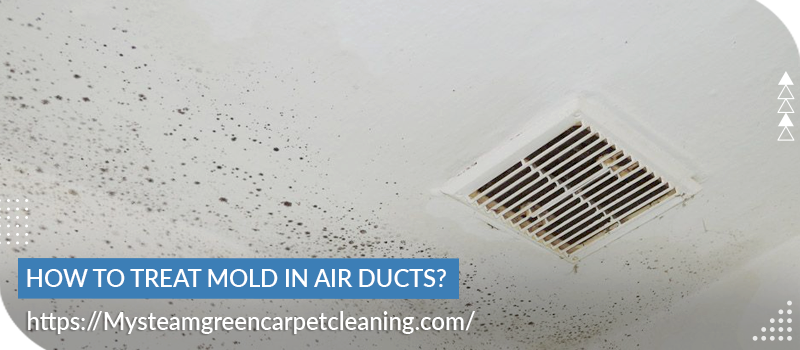 When you're renovating your home, do not leave your Air Duct Cleaning in Winter Garden work to the last minute! The accumulated allergens and contaminants caused by aging within your air ducts need to be cleaned! Therefore, contact My Steam Green for a professional Air Duct Cleaning in Winter Garden now!
Inspect the air ducts for mold
The first step to treat mold in air ducts is inspecting the ducts to see if there are any signs of mold. If you can see any green or black patches or other signs of growth of mold It is crucial to act immediately, as mold can cause respiratory ailments, allergies and other health issues. To inspect the air ducts use a flashlight and use gloves and a mask to avoid breathing in any mold spores. Take note of the walls and in any corners or crevices in the air ducts. Once the mold is identified it is possible to decide the best method to deal with it.
Determine the type of mold
The next step in treating mold in air ducts is to determine the type of mold in the air ducts. In some cases it is possible to visually identify the type of mold growing within the air ducts. In other instances, it may be necessary to send a sample of the mold to an expert lab for identification. It is crucial to have an accurate understanding of the type of mold you're confronted with so that you can choose the most effective method of treatment. If your mold is a type of pathogenic mold, it's essential to take additional safety precautions while treating it.
Vacuum the air ducts
The final step to deal with mold in air ducts is to clean the air ducts. This is a crucial procedure as it can help remove any loose spores from these air-ducts. Cleaning the air ducts should be done with a HEPA-filter vacuum cleaner, and an attachment for a soft-bristled brush. Be sure to move the brush gently and slowly, so that you don't stir the spores that might remain. If possible, use the vacuum cleaner that has an HEPA filter to ensure the spores taken out of the air will be stored in the filter and then disposed of properly.
Use an air purifier
Alongside removing the mold from your air ducts it is also essential to reduce the amount of mold spores present in your home. One approach to achieve this is by using an air purifier. A purifier is able to capture and remove mold spores from the air by using HEPA filters , or activated carbon filter. The air purifier must be located in the central area of the home to ensure that the air in the home is cleaned. In addition, ensure that you change the air purifier's filter frequently to ensure its effectiveness.
Clean and seal the air ducts
The fifth step in treating mold in air ducts is to seal and clean them. To do this, use the HEPA vacuum to eliminate all visible mold and dust from the air ducts and then use the spray for mold to kill any remaining spores. After this is done then you must seal any cracks or holes in the air ducts with the sealant. This will help prevent future mold and help ensure that the air quality inside your home safe.
In conclusion, the presence of mold in air ducts is an issue that must be dealt with as quickly as you can to ensure your home and family are safe. Although there are some DIY solutions that you can attempt however, it is best to hire a professional to ensure that all mold is removed properly. With the right steps and precautions, you can keep your air ducts free of any pollutants and mold.
How much will it cost to blow up air ducts in Winter Garden?
do you need a license to wash air ducts in Winter Garden?