In order to ensure the effectiveness and efficiency of your air conditioning system, regular maintenance and cleaning of the air ducts are essential. Air conditioning systems rely on their clean air ducts to transport heated or cooled air into the desired areas of your home. However, when the air ducts are not maintained properly they could result in lower air quality, insufficient air flow and reduced cooling or heating capacity. Although many homeowners are unaware of the significance of cleaning the air ducts in your air conditioner, but the truth is that it can dramatically improve the performance of the system and lead to a more efficient use of energy. This blog post will discuss how cleaning the air ducts is important for air conditioning systems and how you can go about doing it.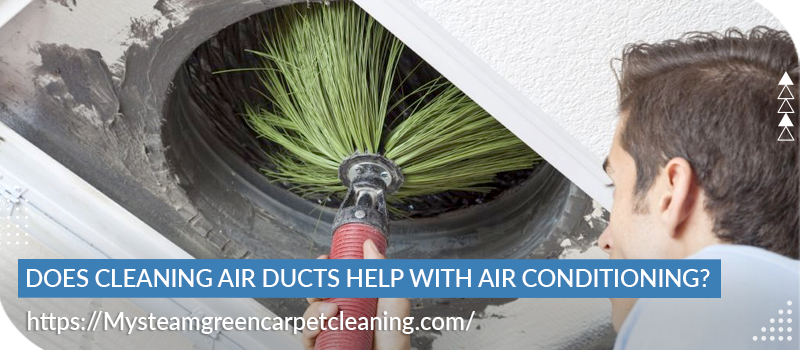 We can help you eliminate mold from your air ducts and improve the air quality by offering you professional Air Duct Cleaning in Woodland Park. Contact My Steam Green today! to schedule your appointment to clean your air duct!
Cleaning dust and other debris from air vents
The removal of dust and other debris from air ducts has the potential to be a huge impact on the efficiency of an cooling system. Dust, dirt and pet hair may get caught in the ducts with time, slowing the flow of cold air out of the system and rendering it less effective. Cleaning the ducts regularly can help the system perform more smoothly and efficiently, meaning you don't have to run the air conditioning for long times to achieve the desired result. Cleansing the air-ducts will aid in reducing the risk of mold and mildew buildup within the ducts, which can further reduce the efficiency of your cooling system.
Reducing the need for repairs
Reducing the need for repairs is a crucial component of air conditioning maintenance. By cleaning the air vents you will reduce the amount of dirt, dust and other debris that can build up in your air ducts and cause blockages that can cause the failure of your cooling system. When the ducts are regularly and thoroughly cleaned, you can maintain the air flow of your cooling system, thus reducing the requirement for expensive repairs in the future. Furthermore, it helps to prolong the life of your air conditioning system, since particles and dirt can damage the internal components as time passes.
Improved air flow
Improving air flow is important to the efficiency the efficiency of an air conditioner. This can be achieved by making sure that the air ducts that you have in your home are in good condition. Dirty and clogged air ducts can significantly reduce the flow of air throughout your home, making your air conditioner have to perform more. Cleaning the air ducts will help to improve air flow by eliminating the dirt and dust that build up over time. The most effective method to accomplish this is to employ an experienced Air Duct Cleaning in Woodland Park business which can make use of specialized equipment to meticulously remove dust and dirt, allowing your air conditioning system to function more effectively.
Reducing the consumption of energy
Reducing energy consumption is a key benefit of cleaning the air ducts. Dust and debris can build into ducts, which makes them less efficient. This means that your air conditioner has to work harder to provide the same level of cooling. If you regularly clean your air ducts, you will increase the efficiency of airflow and cut down on energy usage. In addition, a clean and tidy air duct system will aid in improving the air quality, as it will reduce the quantity of allergens and dust that circulate within your home.
Improving the quality of air
Improved air quality is a crucial element to ensure the efficiency of air conditioning systems. Clogged air ducts can increase the energy needed to cool your house and reduce the quality of the air that circulates in your home. Cleaning air ducts can help to improve the quality of air within your home and boost the efficiency of your air conditioning system. Cleaning air ducts can also assist in reducing allergens dust, and other pollutants that could be circulated throughout your home. Regular maintenance of your air ducts can help in ensuring that your air conditioning system is operating efficiently and helps to maintain a healthy air quality in your home.
Cleaning air ducts can enhance the performance of your air conditioning system. The dirt and dust that collects in these ducts with time may result in blockages and clogs which can cause inadequate airflow and inefficiency. Regular cleaning and maintenance of the ducts will ensure your system is operating efficiently and efficiently and also improve the indoor air quality. Regularly cleaning air ducts is an essential component of any maintenance program.
a
how to measure air velocity inside a air duct in Woodland Park?
How much will it cost to install central air and ducts in Woodland Park?