A business or your home flood can be a traumatic experience. Not only do you need to think about the expense of repairing and the ongoing damages that could be caused by the water to your home or business. One of the biggest concerns that people face in the event of a flood is whether there is a way to salvage the carpet. In this blog post, we will discuss the ways to protect your carpets from flood. We will discuss the different techniques that can be employed and the different carpeting materials that are available to help clean and restore your carpets. We will also consider the possible risks involved with attempting to save your carpets from a flood and how a professional Carpet Cleaning in Oakdale expert can assist. In the end, if your carpets have been affected by a flood it is crucial to assess the damage before trying to clean and repair them.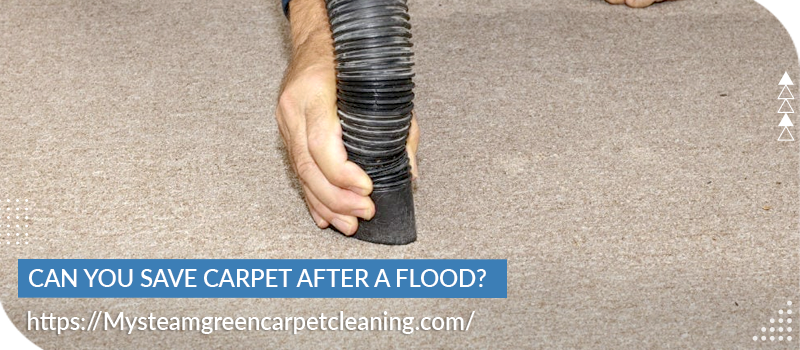 My Steam Green Carpet Cleaning in Oakdale offers a range of Carpet Cleaning in Oakdale services, which are available all day all week long, for businesses and homes! Contact us today to schedule an appointment for your Carpet Cleaning in Oakdale!
Inspect the carpet for damage
The first step in restoring carpets that have been flooded is to inspect it thoroughly for any visible damage. Examine any areas that are weakening or have begun to separate, as well as for any areas of stained or discoloration. Also, look for signs of mold or mildew. When any signs are present you should contact a professional carpet cleaner. In the event that damage has become significant it could be necessary to replace the carpet.
Clean the carpet in the room
The second step in saving your carpet after a flood is to take it out of the room. If the carpet is dry enough, you can take it apart and transport it to the outside, but this could be a challenge based on the size that the carpet. If the carpet is still wet, you might need to utilize a wet-dry vacuum to remove the water so that it is easier for you to move it. When using a wet-dry vacuum, be sure to wear appropriate protective gear, such as gloves and a face mask, and to follow all instructions from the manufacturer.
Clean and dry the carpet
After all of the excess water has been removed, it's important to clean and dry the carpet. Begin cleaning the damaged area to eliminate any dirt or other debris. Then, you can use a carpet cleaner to get rid of any odors and stains which may have been caused by the flood. After that, use a dry vacuum to get rid of any remaining moisture on the flooring. Then, you can use the aid of a dehumidifier or fan to help accelerate the drying process.
Clean the carpet using an anti-bacterial or disinfectant
When the flood waters are gone, it is important to treat the carpet with disinfectants. This will remove any bacteria or contaminants that might have been brought in with the floodwaters. Furniture, upholstery, and other fabrics are also required to be cleaned to ensure they are free of any bacteria. Bleach is a common disinfectant that can be used however there are alternative options that are natural like vinegar or tea tree oil. It is important to follow the instructions on the disinfectant to ensure optimal results.
Install the carpet if it's repairable
After assessing the damage and removing carpet that cannot be salvaged after which you must think about reinstalling the carpet if it's salvageable. Often, carpet can be salvaged after flooding in specific regions, based on the extent of water damage. In these cases it is crucial to make sure the backing is in good condition and that the water is completely removed before reinstalling the carpet. It is also important for you to seal a stain blocker to the carpet before reinstalling it to avoid further damage.
In the end, salvaging your carpet after an incident of flooding can be done by taking swift actions. The most important thing is to act quickly to dry and clean the affected area as quickly as you can. Moreover, take the steps necessary to get rid of the water and stop mold. If the steps are taken, you may save your carpet and avoid costly replacements.
What is the cost of an average cost for a carpet shampooer in Oakdale?
can you lay carpet without underlay in Oakdale?