Air ducts that are dirty can pose a major health hazard. Poor air quality can cause existing ailments like allergy and asthma, and create other respiratory ailments. It is essential to keep air ducts clean so that the air we breathe is free of dirt, dust and other airborne pollutants. Clean air ducts enhance the quality of air in your home or business and improve your overall health and well-being. In this blog we will explore the risks of air ducts that are dirty and how they can cause health problems. We will also explore what can be done to maintain the cleanliness of air ducts and the advantages of regular maintenance on air ducts.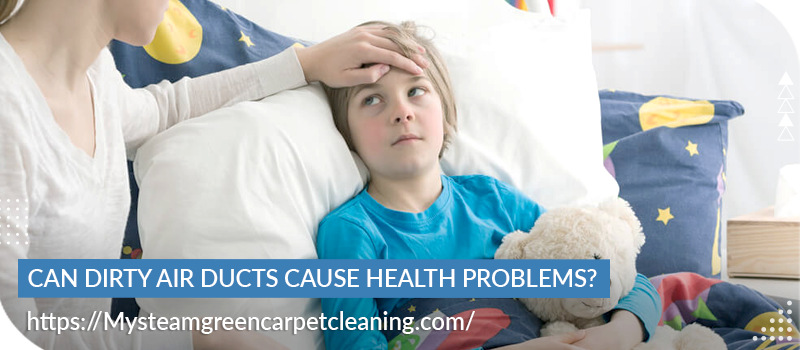 We can assist you in eliminating mold in your air ducts and improve the air quality you breathe by providing you with the most professional Air Duct Cleaning in Woodbridge service. Call My Steam Green today! to schedule your Air Duct Cleaning in Woodbridge appointment!
Poor air quality
Poor air quality is a major cause of health problems. Dust dirt, pollutant and other contaminants could be absorbed into the air ducts of your home, creating a myriad of health problems ranging from asthma or allergies to other respiratory issues. Furthermore poor air quality may lead to headaches as well as fatigue, irritation to the eyes and skin and other general discomfort. If your air ducts aren't regularly cleaned and kept in good condition, they could become a breeding place for dust, pollen, and other allergens, leading to health problems.
Allergens and Dust Buildup
Dust and allergens can cause numerous health problems if left unchecked. If dust, along with other particles build up in the air ducts, they can be circulated throughout your home and trigger respiratory issues like asthma, allergies, and other illnesses. In addition, the accumulation of dust may cause the HVAC system to be inefficient which can result in higher utility bills. To ensure that your air quality is healthy, it is important to clean regularly your air ducts to remove all dirt and other debris. Additionally installing the HEPA filter on your HVAC system can help reduce the amount of dust and other particulates in the air.
Mold and Mildew Growth
One of the major health hazards posed by dirty air ducts is the growth of mildew and mold. They thrive in damp, dark environments and can spread throughout the ducts and into the air that you breathe if unchecked. The growth of mold and mildew can cause serious respiratory issues like asthma and allergies, while also increasing the risk of developing other ailments like lung cancer. Alongside respiratory problems the growth of mold and mildew could cause damage to air ducts themselves, reducing their efficiency and increasing the cost of energy.
Carbon Monoxide Poisoning
Air ducts that are not maintained properly can lead to a variety of health problems. One of the most serious is the poisoning of carbon monoxide. Carbon monoxide is an odorless, colorless gas that can seep into your home through air ducts and trigger serious health issues, even death. It is produced from all fuels that burn like gas and oil, as well as kerosene, wood, and charcoal. If there is a leak, it can quickly increase the volume of air within your home and be breathed in by you and your family. Symptoms of carbon monoxide poisoning include headaches, dizziness confusion, and nausea and it is essential to take care of the issue promptly to avoid health problems that could be serious.
Chemical Contamination
The fifth risk to health that is associated with filthy air ducts is the possibility of chemical contamination. It can happen when chemical residues, such as aerosols, paints cleaning solutions, paint, and more, get stuck inside the air ducts. If the air is circulated by these chemicals, they can be released into the air and breathed in by people living in the vicinity. This could cause respiratory problems, skin irritation and many other health issues. It is crucial to regularly inspect and clean air ducts to ensure that there is no chemical contamination.
In the end, it's vital to maintain a clean air duct system to avoid any health issues that could arise. Clean air ducts can trigger various illnesses, from asthma and allergies to more serious diseases. It is recommended that you make the necessary steps to ensure the indoor air quality of your home or office is clean through having the air vents inspected by a professional as well as cleaned once a year.
How do I insulate air ducts in Woodbridge?
does Air Duct Cleaning in Woodbridge make an impact?